Donald Trump Brags of Making Ford Return Jobs to Ohio; Ford Disagrees
By
Company says it already planned to move work from Mexico

Twitter skirmish: Kasich moved to answer with post of his own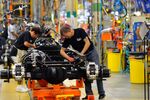 Republican frontrunner Donald Trump is taking credit for Ford Motor Co.'s moving some truck production from Mexico to Ohio. Problem is, Trump had nothing to do with it.
Trump issued a tweet Sunday night linking to a posting on a blog associated with a commercial printing company that bore the headline "Trump successfully pressures Ford to move Mexican plant to Ohio." The blog post itself linked to a CNN story that mentioned Trump's criticism of the company.
"Do you think Hillary, Ben or Jeb could do this?" Trump said in the tweet, a reference to Democratic candidate Hillary Clinton and Republican presidential rivals Ben Carson and former Florida Governor Jeb Bush.
The blog posting, and Trump, were referring to Ford's 2011 decision to invest $168 million in its plant in Avon Lake, Ohio, and shift truck production there from Mexico.
While F-650/F-750 medium-duty trucks began rolling off the assembly line at the plant for the first time in August, the company made it clear that nothing has changed since 2011.
"Ford has not spoken with Mr. Trump, nor have we made any changes to our plans," the company said in a statement. "We decided to move the F-650 and F-750 medium-duty trucks to Ohio Assembly in 2011, long before any candidates announced their intention to run for U.S. president."
Trump campaign spokeswoman Hope Hicks said in an e-mail that he wasn't taking credit, and that he was merely using the story of the factory to "reinforce the importance of this issue he discusses often."
Ohio Governor John Kasich, who also is seeking the Republican nomination and backed tax breaks for the expansion in 2011, replied with a Twitter post of his own crediting his team's efforts for helping land the investment.
"It's not yelling at somebody across a room, 'You're fired' or 'You're hired,' " Kasich told reporters after an event today in Columbus, a reference to Trump's signature reality show phrase. "That's not how you get things done in America."