The U.S. Is Getting Inflation in the Scariest of Places: Halloween Candy
by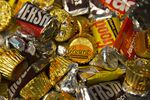 The Federal Reserve is almost universally expected to keep its policy rate close to zero at the conclusion of Wednesday's meeting.
But those monetary policymakers who might be in favor of a Hallo-hike have some thematically pertinent statistics to point to: the rising prices of goodies for trick-or-treaters to take home.
After years of quantitative easing failed to turn the U.S. into the Weimar Republic, as some feared, dressing up as the Inflation Bogeyman might actually be somewhat appropriate this year.
IHS Global Insight Economist Chris Christopher forecasts that candy prices, defined as the annual change in the candy and chewing gum sub-index of the Consumer Price Index, is poised to rise 4.2 percent in October:

Adding to the stress for Halloween shoppers: Cocoa prices have also been on a sustained uptrend, with some farmers blaming the effects of El Niño patterns that are taking shape.
Spending on Halloween candy is expected to creep up a modest 0.7 percent, its slowest pace of growth since 2009. The economist still deems this to be a solid showing, however, building off a 5 percent jump in 2014.
"Americans are likely to spend billions on Halloween candy, costumes, and other ghostly paraphernalia this year," wrote the economist. "Halloween consumer spending on candy is expected to reach $2.2 billion, almost $18 per household."
For parents who don't mind playing the Grinch a few months early, Christopher notes that deep discounts on candy will likely be offered on Sunday, Nov. 1.
Before it's here, it's on the Bloomberg Terminal.
LEARN MORE