The Miner's Daughter Who Shot to Power by Being an Ordinary Pole
by
Szydlo likely next Polish premier after election victory

`I have a mind of my own and can be obstinate,' she says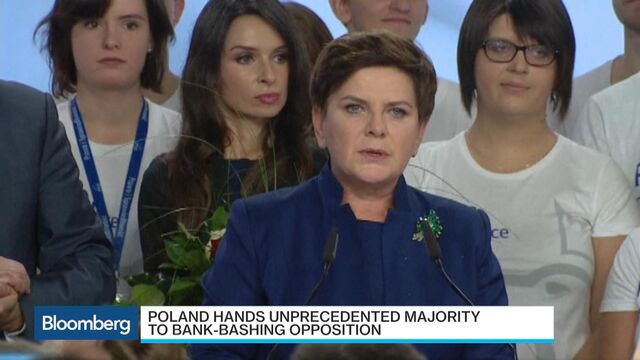 It's been a meteoric few months for Beata Szydlo, who just led her party to the biggest electoral mandate in Poland's post-communist history. 
The 52-year-old former mayor of a mining town in Poland's industrial south rose to prominence after managing Andrzej Duda's surprise triumph in May's presidential vote. Her party, the opposition Law & Justice, then picked her to front its parliamentary election campaign. After a decisive victory at the weekend, Szydlo is now set to become prime minister and run the European Union's biggest eastern economy.

The daughter of a miner and a social worker, Szydlo has marketed herself as a woman of the people who understands the struggles of ordinary Poles as an economic boom left many behind. Her candidacy helped to win over moderate voters in a country whose political landscape has changed in past month, even as Law & Justice's opponents say strings are still being pulled by Jaroslaw Kaczynski, Law & Justice's founder and leader.
"Szydlo is the mother of Duda's success, but she doesn't have much experience on the national level," said Olgierd Annusewicz, a political scientist at Warsaw University. "She was handpicked by Kaczynski because he realizes there is a need for a refreshment of faces."
Welfare Priority
Law & Justice previous stint in power in 2005-2007 was marred by instability and infighting with the party's two coalition partners. This hurt the popularity of Kaczynski, who polls show is one of Poland's least-trusted politicians, and his twin brother Lech, who later became president and died in a 2010 air crash in Russia.
This time, the party is on course for a majority in parliament, according to exit polls that take into account partial results. It would be the first since the end of communism and allowing Szydlo to govern alone. The pro-European Union, more socially liberal Civic Platform party has run Poland for the past eight years, though faced a barrage of criticism over being elitist and out of touch following a scandal over comments by officials taped during lavish dinners.
While Jaroslaw Kaczynski vowed not to take "revenge" on his political opponents, his victory speech on Sunday focused on his late brother and other victims of the Smolensk air disaster, which some Law & Justice lawmakers call an "assassination." Szydlo, on the other hand, said her priorities will be to implement child subsidies and other welfare spending plans.
Born in 1963 in Oswiecim, the site of the Nazi World War II concentration camp Auschwitz, Szydlo grew up near the mining town of Brzeszcze. She played handball and went to study ethnography, where she met her husband. They have two sons -- one is studying to become a Catholic priest, the other a doctor.
Duda's Tour
Brzeszcze is also where her political career began. In 1998, Szydlo was elected as the town's mayor, the youngest in the region. While in an interview with a local newspaper in 2003 she denied having any plans to run for parliament, she did two years later.
Szydlo sailed through the party ranks, winning the trust of Jaroslaw Kaczynski. She became Law & Justice's chief spokesperson on economic matters and party treasurer in 2014. Her real breakthrough came when she was named as Duda's campaign manager. 
Having criss-crossed the country in a bus tour, they managed to turn his 30 percent deficit in the opinion polls into an emphatic victory, giving Law & Justice the momentum to sweep back into power in Sunday's vote.
The Law & Justice said it will deliver the change voters want by standing up for Poles at home and abroad. That includes spending more on social security, taxing banks and winning support for a greater NATO presence on Polish soil to form a buffer zone in the region against a more assertive Russia.
Own Mind
With her calm demeanor, short hair and toned-down clothes, Szydlo likes to project an imagine of an average Polish woman, who knows "the hardships of an everyday life" and buys her own groceries. While it played well with the traditional Law & Justice electorate, how Szydlo will perform abroad as the EU faces a refugee crisis and a growing divide between east and west is more of a wildcard.
In a televised debate with outgoing Prime Minister Ewa Kopacz last week, she labeled Russia an enemy of Poland and promised to push back against any attempts to force the country to take more migrants. That could herald a return of the more confrontational style under the previous Kaczynski's government.
Yet, Szydlo is adamant she has her own agenda.
"I have a mind of my own and I can be obstinate," she said in her nomination speech in Warsaw after receiving her party's nomination in June. "I won't let myself be controlled, but I'll listen to people and experts."
Before it's here, it's on the Bloomberg Terminal.
LEARN MORE