Stark Inequalities Shown With Rising Life Expectancy in China
by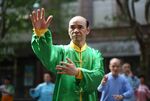 Life expectancy in China rose by an average of 8.5 years from 1990, though stark discrepancies remain between provinces, according to a study that examined regional differences in health standards.
The higher life expectancy was accompanied by a 25-fold increase in per capita income, according to a study published Monday in the medical journal The Lancet. In most provinces, reductions in diarrhea and other infectious diseases helped delay premature death.
In richer areas such as Shanghai, women lived until 85.2 and men 80.2 -- comparable to countries such as Japan or France, where life expectancy is among the highest in the world. The figures were about 10 years lower for both sexes in other provinces such as some in the west of the country, comparable to less developed countries like Bangladesh. Calls to China's health ministry weren't answered.
The research reflects the strides that China has made in improving the quality of health care, as well as the new challenges that have emerged as the country's economic boom has fueled lifestyle changes. Cerebrovascular diseases, a group of illnesses that includes strokes, were the leading cause of death for both men and women in the country, the study found. In some cities and provinces, such as Chongqing, Sichuan and Yunnan, chronic obstructive pulmonary disease, illness associated with smoking and air pollution, was a leading cause of death.
Before it's here, it's on the Bloomberg Terminal.
LEARN MORE