Reading The Economist's Job Ads? Modi Has Work for You in India
by
India needs a chairman for state-run power utility NTPC Ltd.

The ad is a rare global talent search by a government company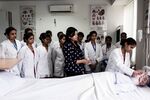 Scroll past vacancies at McKinsey & Co. and the United Nations on The Economist's jobs board, and you soon come to an opening for chairman and managing director at India's top state-run electricity generator NTPC Ltd.
The advertisement is a rare attempt at a global search for talent by India's government-managed companies, under Prime Minister Narendra Modi's effort to bolster their performance and spur economic growth. A sticking point could be the basic annual pay: less than $24,000, or about half what the average American made in 2014, levels of compensation that reflect a history of appointments coming from within the public sector.
Other criteria in the local version of the advertisement betray some of the legacy of byzantine state planning, such as a stipulation the post holder must be 45-58 years old. Even so, the posting on The Economist's website by the Indian Power Ministry is another indication of Modi's desire to inject private-sector know-how into sprawling government companies, which span industries ranging from energy exploration to watchmaking.
"I don't remember having seen the government advertising in an international publication for a position in a public-sector undertaking," said U. D. Choubey, director general at the Standing Conference of Public Enterprises, a New Delhi-based body that represents state companies.

The administration last year opened up the position of chairman and managing director at state-run Coal India Ltd., the world's biggest producer of the commodity, to private-sector candidates. The job was eventually taken by Sutirtha Bhattacharya, a former bureaucrat who had been leading Singareni Collieries Co., which is owned by the federal government and a local authority.
Coal India, given an unprecedented target to double its production in five years, has reported record growth in sales and output after Modi sought to improve its performance.
The administration is also seeking private-industry expertise for government-run banks, which are facing the challenge of reducing bad debt. In the last three months, it tapped the private sector for the positions of chairman and chief executive of Bank of Baroda as well as Canara Bank. Both lenders are run by the state.
Finance Minister Arun Jaitley said last year that public-sector businesses need to be competitive and can't be run like government departments.
Investors should shed "long-held skepticism" about government companies as they'll probably benefit from reforms and improving economic growth, Morgan Stanley said in a note in August.
25,000 People
NTPC employs about 25,000 people and has a mix of mainly coal- and gas-fired power plants. It plans to add 10 gigawatts of renewable electricity-generation capacity in five years. Power secretary Pradeep Kumar Pujari didn't answer a text message seeking comment, and declined to do so when contacted by mobile phone as he was in a meeting.
NTPC's former chairman, Arup Roy Choudhury, earned about 5 million rupees ($77,000) in the year ended March 31 when incentives and other allowances were added to basic pay. That still leaves a wide gap to senior positions in the non-state sector.
"NTPC's characteristics are rapidly changing and there is a need to broad-base the search for its leader," said Debasish Mishra, a partner at Deloitte Touche Tohmatsu India LLP in Mumbai, who also described the NTPC advertisement as rare. "The biggest challenge will come from the gap in compensation. It may be difficult to find an ideal candidate from outside."
Before it's here, it's on the Bloomberg Terminal.
LEARN MORE