technology
`Very Cheap' Brazilian Real Is Opportunity, Telecom Italia Says
By and
Real has fallen 35% in the past year, most among 31 currencies

LetterOne is proposing a deal that could lead to Tim-Oi fusion
The real's depreciation has made Brazil attractive to foreign investors, said Marco Patuano, chief executive officer of Telecom Italia SpA, the majority owner of Brazilian wireless carrier Tim Participacoes SA.
Patuano made the comment Tuesday, a day after Russian billionaire Mikhail Fridman's LetterOne offered to invest as much as $4 billion to prop up Tim's Rio de Janeiro-based competitor Oi SA, provided it can reach a deal to combine with Tim.
The real has plummeted 35 percent in the past year against the U.S. dollar, the most among 31 major currencies tracked by Bloomberg, as Brazil looked poised for the longest recession since the Great Depression. Oi's market value has slid by more than 80 percent in the period. Even so, Patuano said his company needs to see an update to Brazil's telecommunications industry regulatory framework before he's ready to consider major transactions involving Tim.
"You have a very cheap real," Patuano said at an event in Sao Paulo. "For investors thinking in euros or dollars, it could be an excellent opportunity" to invest in Brazil.
Telecom Italia isn't currently involved in negotiations with Oi and LetterOne, Patuano said. Asked if Telecom Italia was more likely to be a buyer or a seller in an industry shakeup, Patuano said Brazil continues to be a "core" market for his company.
Oi shares fell 8.5 percent to 1.94 reais at the close in Sao Paulo, giving up all of yesterday's rally and more, signaling investor skepticism that the LetterOne offer will lead to a deal.
Still, Fridman's offer may provide new momentum in on-again, off-again discussions to consolidate the Brazilian telecommunications industry.
Phone providers are seeking to shore up profit margins in a market with four main carriers -- a number analysts say may be one too many. Oi has lost about 6.8 billion reais ($1.74 billion) in market capitalization over the past year after its CEO resigned. The selloff has left the company trading at less than 0.1 times book value -- or assets minus liabilities -- implying the market is assigning virtually no value to its equity.
"What would trigger the deal, at least from the Russian investor's point of view, is the current valuation of Oi," said Carlos de Legarreta, an analyst covering the industry for Corporativo GBM SAB. "If you look at the price-to-book value, it's dirt cheap."
That's an attractive discount for a strategic investor, even if the company is buried in debt, according to Legarreta, who cited the importance of Oi's wireless network in Latin America's biggest economy. The company had net debt of 34.6 billion reais at the end of June.
Oi declined to comment.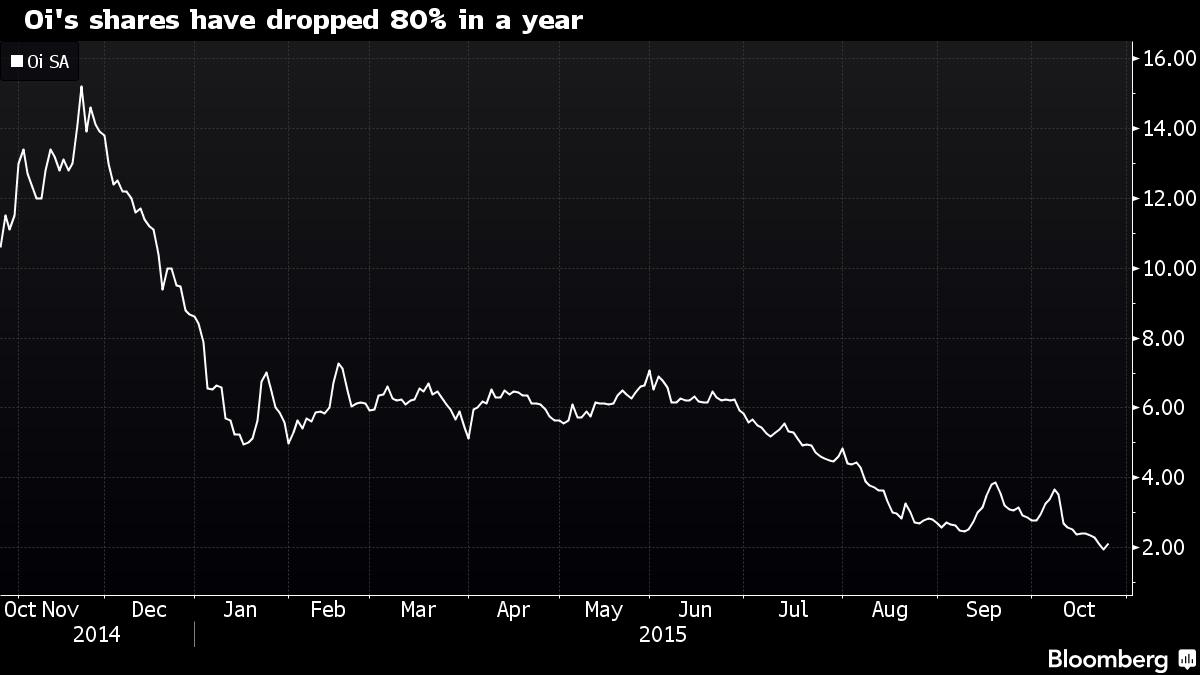 Tim, which has dropped 23 percent in the past year, has a market value of about $5 billion, while Oi's equity is valued at about $680 million.
Telecom Italia, which owns two-thirds of Tim, is inclined to pursue a Brazil strategy on its own, according to people familiar with the matter. Italy's biggest phone company continues to review its options for its Brazilian unit, including a potential deal with Oi, the people said Monday.
"Tim has the upper hand here because Oi is facing some deadlines coming up with their debt covenants, and Tim doesn't really have a deadline," said Eric Guo, research analyst at Gabelli & Co.
Oi hired BTG Pactual last year to explore an acquisition of Tim, while Tim in turn was studying a takeover of Oi to increase market share and better compete with Telefonica Brasil and America Movil SAB's Claro. Tim, the second-largest wireless carrier in Brazil, and Oi, the No. 4, together have about 44 percent of the market, according to data from Anatel in Brasilia.
Not everyone agrees that Oi is a bargain. Banco Bradesco BBI analysts led by Luis Azevedo wrote in a research note Monday that the company is trading at a "rich valuation" if you consider debt levels.
While Brazil's economy is shrinking, its inflation quickening and the currency weakening, the outlook for its mobile carriers is brighter. The biggest, Telefonica Brasil SA, predicts that smartphone penetration and mobile data use will grow by at least 10 percent this year in the country of more than 200 million people.
In Brazil, merging Oi and Tim could help boost profitability across the sector.
"Overall for the industry, consolidation would be a positive step," Legarreta said. "Having a less tight competitive environment -- or more rational environment, if you will -- will certainly help carriers improve their margins."
— With assistance by Daniele Lepido
Before it's here, it's on the Bloomberg Terminal.
LEARN MORE