Meet the Surgeon Sought After by Transgender Men
by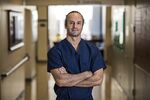 Curtis Crane spent 20 years training in the U.S and abroad, acquiring penis-making skills that have won him a global following.
Crane says he's one of only a few surgeons in the U.S. performing a high volume of phalloplasties -- a booming surgical niche fueled by an increasing number of transgender men seeking to complete their anatomical transition. Even after hiring and training two colleagues to perform the eight-hour surgery, Crane's patients must wait a year to have it done.
"Most of us who are well known for this procedure and specifically trained for this procedure have a year-to-two-year wait list," Crane says over the phone, minutes after completing an operation at the California Pacific Medical Center in San Francisco. "I don't know any other surgical sub-specialty that has that kind of wait list. That in itself says high demand with little supply."
While demand for gender-affirming surgeries is increasing worldwide, the more complicated female-to-male operations are growing fastest. In April, Crane's three-year-old San Francisco practice celebrated its 100th phalloplasty. By mid-August it counted 130, among whom were patients from England, Canada, Israel, Australia and New Zealand.
"We do two a week," Crane says. "About a year ago, it was one a week and a year before that, it was a few a month."
Crane hired a surgeon in mid 2014 and trained him how to perform gender-reassignment surgery, he says.
"He has been in practice for a year and now has a year wait list," Crane says. A second surgeon he began training in July already has a six-month wait list. "I will probably keep training surgeons until patients don't have to wait so long," he says.
Female-to-male transgender patients will spend more than $100,000 for hysterectomy, phalloplasty using the so-called free-flap technique, and surgery to masculinize their chest, Crane estimates. Male-to-female patients seeking vaginoplasty and breast augmentation will pay about $30,000 to $40,000.
"I am mostly doing female-to-male because there are fewer people in the U.S. who will do that," he says.
Crane's interest in phalloplasty stems from an interest in construction. His first degree was in mechanical engineering.
"I really like fluid dynamics and engineering -- no joke," he says. "I was thinking of getting a PhD in fluid dynamics and thought I'd maybe give medical school a try, and went into urology."
That followed specialist training in functional and aesthetic plastic surgery and a fellowship in reconstructive urology, he says. After that came a self-funded study tour to Belgium, the Netherlands, Serbia and Thailand to learn specialized vaginoplasty and phalloplasty techniques.

In a single procedure involving two teams of surgeons, transgender men with no genital reconstruction undergo a vaginectomy and scrotoplasty, Crane explains. Meantime, a phallus with sensation is created from skin, blood vessels and nerves taken from the forearm and attached to the pubis using an operating miscroscope. The urethra is lengthened to the tip of the newly created phallus, completing the soft tissue reconstruction.
Nine months later, penile and testicular implants are inserted.
"That's a great improvement over techniques from the 60s and 70s that would require 6 to 12 stages and typically give a phallus with no sensation and no urethra," Crane says.
The worst complication patients are warned about is that their phallus dies, usually because of a clot that cuts off blood supply. So far, none of Crane's patients has had that, he says.
"The other complications are things that we can deal with: urethral stricture, urethral fistula, wound healing problems, bleeding," Crane says, adding that these can occur in fewer than 1 percent of patients to 10-to-20 percent in the case of urethral stricture.
When Crane opened the practice, 90 percent of his patients paid cash for their surgery and only 10 percent were helped by insurance, he says. Now, 90-to-95 percent are covered by insurance and 5-to-10 percent pay cash.
"The big phenomenon happening in the U.S. is that finally our insurance companies are acknowledging that these are medically necessary procedures," Crane says. "Once the third party payers -- whether it's insurance companies or government -- acknowledge that it's medically necessary and are going to pay for it, then we'll see the true number of patients that there are in the community. Until then, these people are just going about life as best they can, not being able to afford these surgeries that cost tens of thousands of dollars."
Before it's here, it's on the Bloomberg Terminal.
LEARN MORE