Manila Airport Upgrade, Gas Pipeline Up for Aquino Approval
by
Toll roads, motor vehicle inspection centers also considered

National Economic and Development Authority to meet next month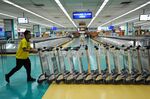 Manila's airport upgrade, a road connecting two expressways in the Philippine capital and a gas pipeline are among seven projects worth 170 billion pesos ($3.6 billion) that are up for President Benigno Aquino's approval next month.
The board of the National Economic and Development Authority, led by the president, will probably meet during the first week of November to decide on these projects, said Cosette Canilao, who heads the Public-Private Partnership Center, a government body that oversees the plans. The government aims to award 14 more PPP contracts by June 2016 when Aquino's administration steps down, she said in an interview Monday.
"We're hoping to award almost all the projects" for which bidding has already begun, Canilao said in her office in Manila. "For the rest, we'll take them as far as we can, hopefully into the pre-qualification stage" before the president steps down.
Aquino is stepping up efforts to improve airports and roads as part of the country's largest-ever infrastructure upgrade. He's planning to boost state public works spending next year to 766.5 billion pesos, about 5 percent of gross domestic product and more than four times the amount when he took office in 2010.
The seven projects to be considered by the NEDA board in November:
Manila airport upgrade - 74.56 billion pesos
Motor vehicle inspection centers - 44.55 billion pesos
Manila connector road - 23.2 billion pesos
Batangas-Manila natural gas pipeline - 14.72 billion pesos
Plaridel toll road - 9.39 billion pesos
Philippine Travel Center Complex - 1.75 billion pesos
Nayong Pilipino at Entertainment City - 1.58 billion pesos
Before it's here, it's on the Bloomberg Terminal.
LEARN MORE