Strongest Afghan Quake Since 1949 Triggers Search for Survivors
By and
Second big earthquake in South Asia in past six months

More than 260 people killed, over 1,200 injured, AP reports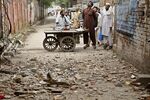 Afghanistan's strongest earthquake in more than six decades shook buildings across South Asia, prompting officials from Kabul to Islamabad to New Delhi to send out rescue teams to search for survivors. More than 260 people died.
A 7.5 magnitude quake struck 254 kilometers (158 miles) north of the Afghan capital at a depth of 213 kilometers at 2:39 p.m. Indian time Monday, the U.S. Geological Survey said. It was the first major temblor in the region since April, when a 7.8 earthquake in Nepal killed more than 8,000 people and triggered deadly avalanches on Mount Everest.
"The strongest earthquake in recent years has caused heavy damages and casualties in the nation," Abdullah Abdullah, Afghanistan's chief executive officer, told the country in a televised address. He said that 11 children died in a stampede as they tried to run out of a school building during the earthquake.

The quake caused landslides, disrupted mobile phone networks and caused houses to collapse in Pakistan, according to news reports. Omar Abdullah, the former chief minister of India's northern Jammu & Kashmir state, wrote on Twitter that electricity was cut off in the main city of Srinagar. Office workers in New Delhi evacuated buildings.
At least 228 people were killed in Pakistan, and more than 1,000 injured, the Associated Press reported. In Afghanistan, officials said 33 died with more than 200 casualties, according to AP.
Afghan President Ashraf Ghani convened an emergency meeting to assess the damage. India's Prime Minister Narendra Modi called for an urgent assessment of the earthquake and said his nation is ready to provide assistance. Pakistan said its army had begun rescue efforts in the country.
State Department spokesman John Kirby told reporters in Washington that the U.S. would be willing to consider any requests for assistance.
The South Asia region has a history of catastrophic earthquakes because the tectonic plate that carries the Indian subcontinent is pushing northward into the main Asian plate. The 7.5-magnitude earthquake is the biggest to hit Afghanistan since 1949, according to USGS data.
"This was by far the most severe earthquake I've felt in my lifetime," Abdullah Ahmadzai, the Asia Foundation's Afghanistan representative, said by phone from Kabul. "The region near the epicenter is not a highly populated district, but the structures there are very basic and vulnerable to these sorts of natural disasters. There is a lot of concern about mass destruction there."
(An earlier version of this story corrected the distance of the earthquake from Kabul.)