business
Japan on Track to Start 3rd Nuclear Reactor Under New Rules
By and
Ehime prefecture governor allows start of 890-megawatt unit

Shikoku Electric's reactor would be Japan's third in operation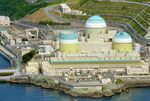 Shikoku Electric Power Co. received final local approval for restarting its Ikata No. 3 nuclear power plant, putting the reactor on track to become the third to restart under new safety rules after the 2011 Fukushima disaster.
Tokihiro Nakamura, governor of Ehime Prefecture, granted his approval for the restart of the reactor during a meeting with Shikoku Electric President Hayato Saeki on Monday, according to a statement from the power utility. While not enshrined in law, local government approval is traditionally sought by Japanese utilities before they return the plants to service.
Ikata No. 3, which was commissioned in 1994 and has a capacity of 890 megawatts, suspended operations in April 2011, following the massive earthquake and tsunami in March of that year that caused a meltdown at Tokyo Electric Power Co.'s Fukushima Dai-Ichi facility.
The approval comes as the country slowly returns to nuclear power as it balances cutting the costs of relying on imported energy with public opposition to atomic plants. Kyushu Electric Power Co.'s Sendai No. 1 and No. 2 units on Japan's southern island of Kyushu are the only reactors to clear the regulator's safety standards, receive local approval and resume operation under post-Fukushima rules.
Japan's Nuclear Regulation Authority said in July that the No. 3 unit at the Ikata facility, about 322 kilometers (200 miles) southwest of Osaka, met its safety standards. Additional inspections will be required before the unit resumes operations.
"We aim to further improve the safety and reliability at the facility into the future," Shikoku Electric's Saeki said in a statement.
Two reactors at Kansai Electric Power Co.'s Takahama station, about 60 kilometers north of Kyoto, have also received NRA approval, though court challenges have prevented them from restarting.
Japan's nuclear fleet was gradually taken offline in the years since the Fukushima disaster, with the last of the country's 43 operable commercial reactors closed in September 2013.
Ikata No. 3 may restart as early as March, according to Hidetoshi Shioda, an analyst at SMBC Nikko Securities Inc. who rates Shikoku Electric as the equivalent of a buy. The restart will improve earnings, he said by phone.
Shikoku Electric's shares rose as much as 1.2 percent to 2,067 yen on the Tokyo stock exchange, its highest level since Aug. 5.
(Updates with comment from utilities president in sixth paragraph.)
Before it's here, it's on the Bloomberg Terminal.
LEARN MORE