Israeli Arabs Caught Between Their Pocketbooks and Their Hearts
by
Palestinians who are Israeli citizens live better but are torn

They are sympathetic to cousins in West Bank, Gaza, Jerusalem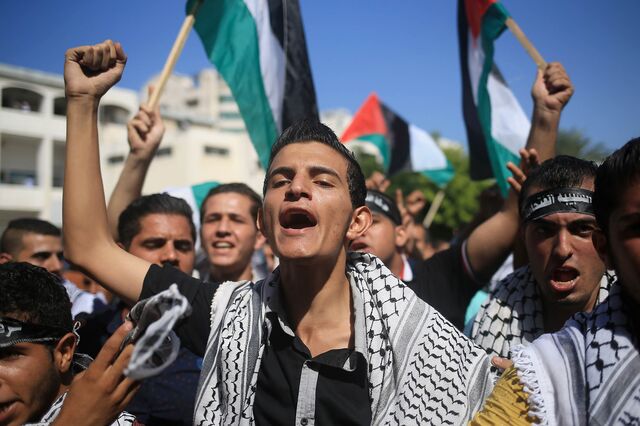 Watan al-Qasim, an Israeli Arab businessman, was close to signing a deal to provide digital services to a Jewish-owned company when the client's marketing manager phoned. Because of escalating Palestinian violence, he was canceling the order.
"He told me, 'It's not the right time for us," said al-Qasim, owner and CEO of Lamsa Media, a digital media and advertising agency. "The Israeli public is upset about what's going on and companies don't want to be seen doing business with Arabs right now."
These are delicate times for the 1.7 million Palestinian citizens of Israel like al-Qasim, some 20 percent of the country's population. Unlike their cousins in the West Bank, Gaza and East Jerusalem, who live under occupation, they have benefited directly from Israel's prosperity. Yet although they are better off and better educated than their parents, they are politically more frustrated. So while the knifings and stonings roiling Israel threaten them too, many remain sympathetic with the rioters.
"We are caught between the hammer and the anvil," said Hader Hader, manager of Douzan, a popular Arab restaurant in Haifa, where revenue has decreased by 40 percent this month. "We don't believe in violence and we are suffering from this economically. But we can't stay silent while occupation and incitement against Palestinians goes on."
Cities Ban Cleaners
Arabs are far behind the Israeli national average in education, employment, and wages but have made modest gains in recent years, according to a recent OECD report. The violence that began several weeks ago could threaten the progress, especially if it continues. Some cities have banned cleaners and maintenance workers -- many of whom are Arabs -- during school hours. And some Israeli Jews are asking building contractors not to employ Arab workers.
"We are now seeing clear indications that there could be a big blow to the Arab community," said Rawnak Natour, co-executive director of Sikkuy, a Haifa-based organization working to reduce inequality between Arabs and Jews in Israel. "There are calls in many sectors to let go of the Arab workers."
Riots and stabbings have spread this month, with much of the violence stemming from Palestinian accusations that Israel is planning to assert greater control over the revered Al-Aqsa Mosque in Jerusalem -- a claim Prime Minister Benjamin Netanyahu denies. Arab-Israelis have protested in sympathy and expressed their rage.
Last week, some 20,000 Arabs marched in a largely non-violent demonstration in the northern city of Sakhnin. There have been a few cases of Arab-Israeli attacks on Jews, including a shooting death of a soldier, and rioting has taken place in mixed Jewish-Arab cities such as Jaffa and Ramle. There have also been Jewish attacks on Arabs. But most of the violence has been perpetrated by Palestinians from Jerusalem and the West Bank.
Caught in Trap
Arabs in Israel have long lamented that their nation is at war with their state. They feel caught in a trap more than ever: If they join the uprising, they risk gains in a country that provides work, health care, education, and rights to vote and demonstrate. Yet most support the Palestinian cause and feel discriminated against.
"I condemn the violence in every possible way," Ayman Odeh, chairman of the joint list of Arab parties, and a member of parliament, said in an interview. "But whom do I blame? Mostly the prime minister, who instead of solving the conflict, wants to keep it going and to manage it."
An altercation between Odeh, who has led demonstrations, and the mayor of the Israeli-Arab city of Nazareth, Ali Salem, illustrates the Arab dilemma. Odeh was about to be interviewed on Israeli TV when the mayor drove up and, on live television, upbraided Odeh for fostering violence. "You've ruined the city for us," Salem screamed, referring to a drop in commerce caused by the protests.
Al-Qasim, the advertising specialist, understands the dilemma. He holds a bachelor's degree from the University of Haifa where nearly a third of the students are Palestinian citizens of Israel. Since he started his company in 2011, business has grown for his firm, which gets about 70 percent of its work from Arab clients and 30 percent from Jews.
He says he doesn't blame Odeh because the Israeli occupation of Jerusalem and the West Bank is what is perpetuating the conflict.
"I won't deny that the Palestinian struggle is different from mine," he said. "My life here is good. I have my own company, I live in beautiful Haifa near the sea, I go out to restaurants. I can't say I share the hardship of Palestinians living on the other side of the green line. But I can't cut myself off from their struggle either."
Before it's here, it's on the Bloomberg Terminal.
LEARN MORE