Indonesia's Widodo Talks Climate With Obama as Peat Fires Rage
by and
He visits Oval Office before cutting trip short amid crisis

Asian president takes action without saying `climate change'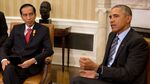 With smoke choking Indonesia's air, President Joko Widodo met Barack Obama at the White House in a visit curtailed by forest fires that have focused attention on climate change.
The blazes, which have spread thick haze over the Asian country, are forcing Jokowi, as the Indonesian president is known, to shorten a trip that had been focused as much on investment as the U.S.-Indonesia relationship. In addition to a ceremony Monday night celebrating agreements with several U.S. companies at the U.S. Chamber of Commerce, Jokowi had scheduled stops on the West Coast later this week to meet with officials from Google Inc., Facebook Inc. and Apple Inc., according to Indonesian officials. He now plans to return home Tuesday.
"We had a thorough discussion with President Obama on the issue of climate change." Jokowi told reporters in Washington on Monday. "Especially in Indonesia, we have a big challenge right now."
The fires, in areas rich with flammable peat, are linked to deforestation and slash-and-burn agriculture. Jokowi has pledged to curb that practice, which contributes to global warming, as he tries to rein in illegal development. They have grounded flights and caused respiratory problems for thousands of Indonesians, and have been spewing greenhouse gases across the region.
Paris Conference
The fires have challenged Jokowi's government and brought the issue of climate change to the forefront less than two months before a United Nations conference in Paris intended to conclude an agreement on global warming. Obama said Monday that large nations such as the U.S. and Indonesia must work toward the strongest possible emissions targets.
Jokowi said Friday he would freeze new permits for development of palm oil on peat lands. Jokowi was to tout that action along with other steps he has taken to curb carbon pollution during his meeting with Obama, said Wimar Witoelar, a climate consultant. At the same time, the Widodo government has been avoiding using the term "climate change," which is seen by many Indonesians as a "product of the West," Witoelar told reporters.
"Now that President Obama has been showing fresh enthusiasm to deal with climate change, he doesn't want to seem like he's riding on the bandwagon," Witoelar said.
Investment Deals

The fires and Jokowi's early departure overshadowed the $20.3 billion in investment deals he signed during the Washington swing. General Electric Co. will invest $1 billion in Indonesia's power, oil and gas industries, while state-owned Pertamina closed shale gas purchase agreements worth $13 billion with a unit of Cheniere Energy Inc.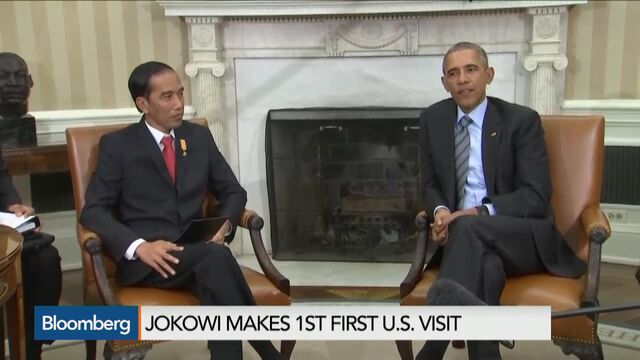 In another move intended to boost Indonesia's economy, Jokowi said after meeting with Obama that the nation plans to join the Trans-Pacific Partnership, a trade agreement that includes the U.S. and 11 other countries on both sides of the ocean. He didn't elaborate on when or what led to the decision. The agreement must first be ratified by the countries that are the initial parties to it.
Islamic Extremism
For the Obama administration, the main agenda for the visit includes the threat of extremism in the world's largest Islamic democracy, and dealing with tension in the South China Sea. The U.S. president spent several years during his childhood in Indonesia and opened and closed his Oval Office remarks in the country's language. He said that given the country's role in commerce in Asia and its moderate Islamic population, "our partnership is very much in the interest of the United States."
Almost 90 percent of Indonesia's 256 million people are Muslim. As the U.S. and other Western powers battle extremists in places including Syria and Iraq, Indonesia sees a role for itself as an ambassador of moderation.
"The No. 1 request of Indonesia is not to be Pakistan," Representative Brad Sherman, the top Democrat on the House Foreign Affairs Committee, told Bloomberg reporters and editors last week.
Indonesia's government has a program to promote tolerance and exports its brand of moderation while trying to tamp down radicalization of its own citizens. Indonesia estimates about 800 of its citizens have become foreign fighters with Islamic State in Iraq and Syria.
Obama said Monday that the presidents discussed counterterrorism cooperation and "countering the message that comes from organizations like ISIL," using an alternative abbreviation for Islamic State.
Before it's here, it's on the Bloomberg Terminal.
LEARN MORE