Hurt by Energy, Einhorn's Greenlight Re Hedges Oil, Natural Gas
by and
Derivatives would boost reinsurer if gas falls or crude rises

Consol stock contributing to hedge fund's 17% drop this year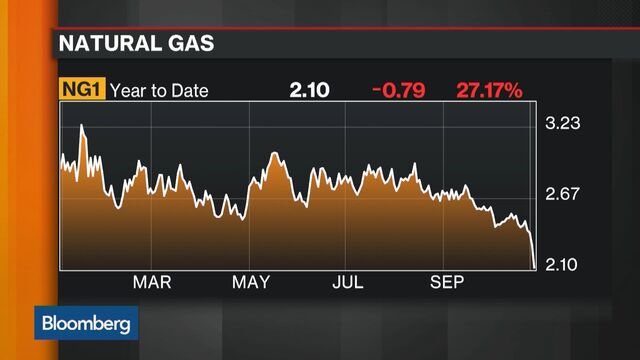 David Einhorn is revisiting page one of the hedge fund playbook: he's hedging.
In the midst of his worst year since the financial crisis, the money manager added derivatives positions that would protect against a further decline in natural gas and an increase in the price of oil. The contracts were disclosed in a filing on Oct. 23 by Greenlight Capital Re Ltd., after the reinsurer said its third-quarter net loss quadrupled from a year earlier.
Einhorn, 46, oversees $1.1 billion of investments for the Cayman Islands-based reinsurer in addition to running New York-based hedge fund firm Greenlight Capital Inc., which had $12 billion in assets as recently as May. His main hedge fund, which mostly trades stocks, lost 17 percent in the first nine months of 2015, one of the worst performances among its high-profile peers.
Among Einhorn's biggest losers has been Consol Energy Inc., which plummeted 55 percent in the third quarter and 72 percent year-to-date. The natural gas and coal company was among his top holdings at the end of June.
"We could have mitigated a portion of our loss by hedging natural gas, but with the price already near a historical low, we made the incorrect decision not to hedge the commodity risk," Einhorn wrote in a letter last week to the hedge fund's clients. Consol has been pressured by an oversupply of natural gas, but Greenlight increased its stake in July, saying few mid-size energy companies are achieving similar success.
Pioneer Natural
If natural gas falls 10 percent, Greenlight Re's derivative position would rise $2.4 million, translating into a 0.2 percent gain in the investment portfolio, the filing shows.
It's also hedging against higher oil prices. A 10 percent rally in the commodity would spur a $4.6 million profit on that derivative position. This could offset the impact rising oil prices would have on Einhorn's wager against Pioneer Natural Resources Co., a fracking company that he said spends too much money.
For the first nine months of the year, Greenlight Re posted a net loss of $283.3 million. The reinsurer's results, reported ahead of schedule on Friday after the U.S. stock market closed, were also hurt by its insurance performance. A.M. Best, a ratings company for insurers, cut its outlook for the firm to negative from stable, citing poor underwriting results in recent years.
Share Decline
Greenlight Re dropped 92 cents, or 3.7 percent, to $23.82 at 9:36 a.m. in New York trading Monday, extending the decline for the year to 26 percent. Einhorn took the reinsurer public in 2007, giving ordinary investors a way to access his hedge fund strategies. The reinsurance market has been pressured in recent years as Wall Street money managers enter the industry seeking weather-related bets.
Before it's here, it's on the Bloomberg Terminal.
LEARN MORE