Duke Energy to Acquire Piedmont Natural Gas for $4.9 Billion
by
The deal triples Duke's gas customers, boosts pipeline stake

Duke follows Southern, Emera, Black Hills gas takeovers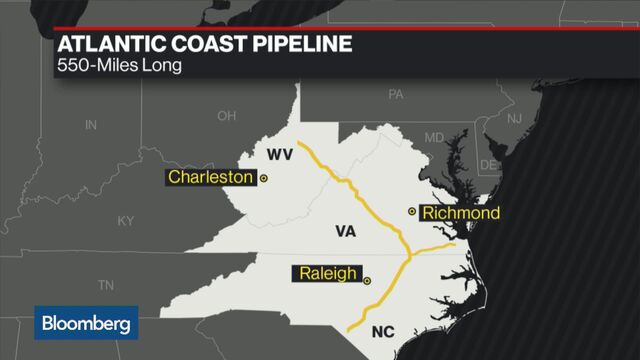 Duke Energy Corp. agreed to acquire Piedmont Natural Gas Co. for $4.9 billion in cash, adding a distributor of cheap shale gas as growth in power demand slows.
Duke follows electric utility owners Southern Co., Emera Inc. and Black Hills Corp. which have acquired gas distributors in the past 12 months. The deal increases Duke's stake in the $5 billion Atlantic Coast Pipeline to 50 percent. When completed, the line will link gas fields in West Virginia to Duke's service area in North Carolina.
"It's opening Duke's door into the gas infrastructure business," Shahriar Pourreza, a New York-based analyst for Guggenheim Securities LLC, said Monday in a phone interview. He rates Duke at buy, doesn't rate Piedmont and owns neither. "Utilities are going through a period where organic growth is slowing down, so they have to grow through acquisitions. Everybody wants to be in the gas infrastructure business."
Piedmont shareholders will receive $60 in cash for each share of Piedmont common stock, about a 40 percent premium to the Oct. 23, closing price, the companies said Monday in a statement. Duke will assume about $1.8 billion in Piedmont's net debt, representing an enterprise value of about $6.7 billion.
Piedmont rose 37 percent to $57.82 in New York, the biggest daily gain and the highest price since at least 1980, according to data compiled by Bloomberg. Duke dropped 2 percent to $72.25.
Enhanced Earnings
The deal "enhances" Duke's forecast earnings per share growth rate of 4 percent to 6 percent, the company said. Piedmont's rate base and earnings before interest, taxes, depreciation and amortization and amortization have been rising annually at about 9 percent, Duke Chief Financial Officer Steven Young said on a conference call with analysts and investors.
Predictable, state-regulated profit from Piedmont's fuel delivery will reduce Duke's reliance on its international segment, Pourreza said.
"This combination provides us with a growing natural gas platform, benefiting our customers, communities and investors," Duke Chief Executive Officer Lynn Good said in Monday's statement. Duke anticipates expanding Piedmont's system to supply power plants as gas displaces coal as the leading generation source, Good said on the call.
Piedmont distributes and sells natural gas in North Carolina, South Carolina and Tennessee, and through subsidiaries markets gas in Georgia. The Charlotte, North Carolina-based company also distributes propane in several states. Duke, the largest U.S utility owner by market value, has 7.3 million electric customers in six states.
Gas Customers
The combined company will have three times as many gas customers as Duke. Piedmont will retain its name and operate as a unit of Duke Energy. Duke will add one member of Piedmont's board of directors to its board after the transaction is closed.
Completion of the transaction is conditioned upon approval by the North Carolina Utilities Commission, expiration or termination of any applicable waiting period under the federal Hart-Scott-Rodino Antitrust Improvements Act of 1976, and Piedmont shareholder approval. The companies are targeting a closing by the end of 2016.
Goldman Sachs Group Inc. advised Piedmont. Barclays Plc advised Duke and will provide a bridge loan to finance the purchase. Permanent financing will include as much as $750 million of equity, as well as debt and cash, according to the statement.
Southern agreed to buy AGL Resources Inc. in August for about $7.9 billion in cash. Black Hills agreed to buy closely held SourceGas Holdings for $1.17 billion in July and Emera last month announced purchase of Teco Energy Inc., an owner of gas utilities in New Mexico and Florida, for $6.5 billion.
(An earlier version of this story corrected a company name in the first paragraph.)
Before it's here, it's on the Bloomberg Terminal.
LEARN MORE