Draghi in Countdown to More Stimulus Awaits Clues on Economy
by
Data releases this week include inflation, jobs and confidence

Draghi, all ECB board members speaks publicly in next 9 days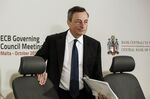 Visibility for Mario Draghi is about to improve.
In the week after the European Central Bank president signaled he's effectively in countdown to more stimulus, he'll receive a raft of data from unemployment to inflation that will guide his decision on what's needed. Investors and economists may draw some indication about upcoming decisions from comments by four Executive Board members scheduled over the next four days.
Draghi all but promised on Thursday to ease monetary policy at the ECB's next rendezvous by committing to be "vigilant," invoking his predecessor Jean-Claude Trichet's preferred signal for imminent action. While he acknowledged that domestic demand remains resilient, concerns over a slowdown in emerging markets, a stronger euro and potential repercussions from a renewed drop in oil prices continue to signal downside risks to the growth and inflation outlook.
"It's pretty much certain that the ECB will be easing in December, it's merely a question of how far they will go -- whether there will only be modifications to the asset-purchase program or a package of measures," said Ken Wattret, chief euro-area market economist at BNP Paribas SA in London. "The upcoming run of data will be important in this respect."
In Germany, Europe's largest economy, business confidence fell for the first time in four months in October, the Ifo institute said on Monday. The gauge slipped to 108.2 from 108.5 in September.

With inflation threatening to become entrenched at a rate closer to zero than the ECB's goal of just below 2 percent, a report on consumer prices may well be the most awaited indicator of the week. Economists forecast that they stagnated in October after falling 0.1 percent in September, though eight of the 34 predictions in the survey are for another decline.
The drop the previous month was the first since March, when the ECB embarked on its 1.1 trillion-euro ($1.2 trillion) asset-purchase program. Eurostat, the European Union's statistics office in Luxembourg, will publish the report on Friday, along with unemployment data for September.
The release will be preceded on Thursday by national inflation data from Germany and Spain. While a foray below zero will remain a one off in Europe's largest economy, the Iberian nation will register its eighth negative reading since the beginning of the year, according to separate polls.
"The worry is that inflation remains low for too long, so this is certainly something the ECB is going to keep a very close eye on," said Nick Kounis, head of macro research at ABN Amro Bank NV in Amsterdam. "However, after sending a very strong signal at last week's meeting, the question is what and when are we going to see further stimulus to prop up inflation rather than if."
Policy options include extending quantitative easing beyond its current end date of September 2016, ramping up monthly purchases from 60 billion euros and cutting the deposit rate. 
Before Draghi's comments on Thursday that policy makers were looking at all tools, more than 80 percent of economists surveyed by Bloomberg predicted the ECB will eventually beef up QE. Of those, 56 percent said it'll happen by year-end, and 30 percent forecast a decision in the first quarter. A cut to the deposit rate was forecast by 4 percent of respondents.
The euro fell below $1.10 for the first time since August last week and was at $1.1022 at 1:26 p.m. Frankfurt time, down about 2.5 percent since before Draghi's Oct. 22 press conference.
Economic Outlook
Updated projections in December may be a trigger for more stimulus, and the ECB's survey of professional forecasters published last Friday may be a guide to what's in store. Economists cut their inflation outlook through 2017 and predicted growth next year will be weaker than previously anticipated.
While a Purchasing Managers' Index of manufacturing and services unexpectedly increased in October, signaling a pickup in activity, forward-looking indicators point to risks of a slowdown, Markit Economics said on Friday. Economic confidence probably declined in October for the first time in four months, according to a European Commission report due on Thursday.
In Spain, which recorded growth of 1 percent in the second quarter, economists forecast the pace cooled to 0.8 percent in the July-September period.
Growth in the third quarter also slowed in the U.K. and the U.S., which release preliminary figures on Tuesday and Thursday, respectively. A gauge for the euro area won't be available before Nov. 13.
Until then, economists and investors have to rely on their own analysis and policy makers' comments. ECB Executive Board member Yves Mersch referred to Draghi's Oct. 22 remarks when asked on Monday about whether more stimulus was in the pipeline. Vice President Vitor Constancio, and fellow board members Benoit Coeure and Peter Praet will all speak publicly this week. Sabine Lautenschlaeger will take the floor on Nov. 2, a day before Draghi's next scheduled appearance.
"We will be particularly attentive to ECB policy makers" who "most strongly resist more aggressive policy accommodation," said Michael Michaelides, a fixed-income strategist at Royal Bank of Scotland Plc in London. 'We now expect the hawks to shift toward trying to restrict or minimize what type of easing will follow next."
Before it's here, it's on the Bloomberg Terminal.
LEARN MORE