Charles Goodhart: China's Slowdown May Help Solve One of Europe's Major Economic Problems
An unlikely source of rebalancing.
by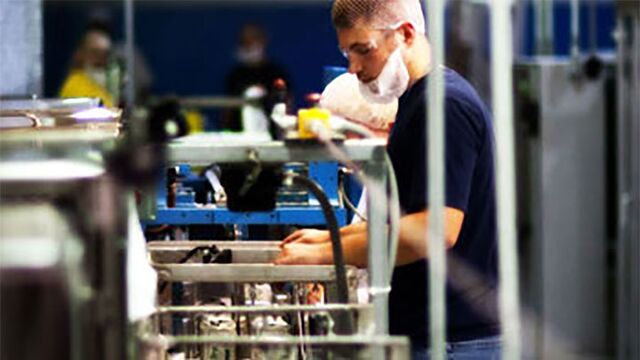 Will the euro area be around in 10 years?
Charles Goodhart, who wrote a seminal paper in the mid-1990s that predicted some of the problems the currency union would encounter, isn't so sure.
But the Morgan Stanley senior economic consultant and former member of the Bank of England's Monetary Policy Committee sees support for the stability of the common currency, which has been plagued by an "inability to adjust for differential shocks," coming from a curious source: a moderation in Chinese growth.
Persistent economic imbalances have been one of the key sources of political turmoil within the euro zone. And of these imbalances, Germany's current account surplus — which stands at a whopping 8 percent of gross domestic product as of the second quarter — reigns supreme.
Another former monetary policymaker (turned blogger turned hedge fund adviser), Ben Bernanke, explained why Germany is able to generate these massive trade surpluses:
First, the value of the euro does not accurately reflect German wages and production costs; the nation effectively imports a lower currency than its fundamentals warrant by virtue of its membership in the European Union.
Second, German policies, such as an austere fiscal stance, serve as a drag on domestic demand, thereby crimping imports.
During an interview on Bloomberg TV, Goodhart explained how a growth slowdown in the world's second-largest economy could help alleviate this imbalance within the euro area:
The rise of China that I've been talking about benefited Germany enormously because the things that the Germans produce like investment goods were what China wanted to buy. But the stuff that China produced was competing with what Italy normally produces — you know, shoes, textiles, and whatever. So Germany benefited and Italy lost out by the rise of China. Now, if China growth is slowing down, it may reverse again so that some of the inherent pressures within the euro zone may become less over the next five years.
Would it be more ideal if Germany's current account surplus slimmed due to more imports, especially of goods and services from its European neighbors?
Almost certainly.
But the potential reversal highlighted by Goodhart suggests that there might be a bit of a silver lining to what's commonly considered to be a black swan.
Before it's here, it's on the Bloomberg Terminal.
LEARN MORE