Central Bankers Bow to Market Pressure as Eyes Turn to Fed-BOJ
by
ECB, China resume push toward greater global stimulus

Currencies may influence Fed, Bank of Japan this year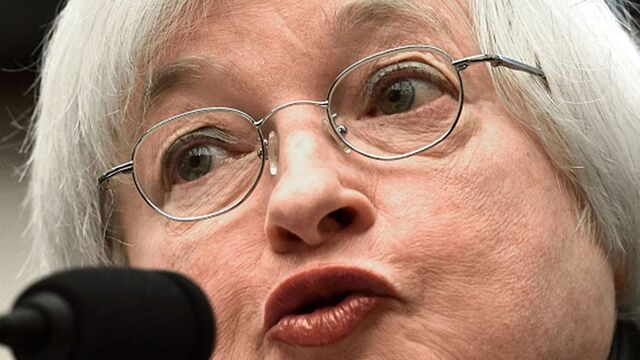 Central bankers are finding it harder and harder to buck the market.
It was September 2014, when European Central Bank President Mario Draghi declared "now we are at the lower bound" for interest rates and only this month that his colleague Benoit Coeure said expectations of the ECB are "just too high." Yet with traders pushing for more action, Draghi signaled last week that another round of stimulus may be in the pipeline for December, including a potential cut to the ECB's already negative deposit rate.
"Things have changed," he told reporters when asked why rate cuts were back on the agenda.
Markets celebrated their victory, propelling global stocks higher. Equities got a further lift at the end of the week, when the People's Bank of China cut its benchmark rate for a sixth time in a year.
"Central banks are playing catch up with what the market has known for some time - that global growth is slowing," said Jason Daw, head of Asia currency strategy at Societe Generale SA in Singapore.
The apparent lesson for investors: Those central banks that have room will keep stimulating and can be prodded to do so. Policy makers are willing to act rather than be later accused of doing too little or giving credence to the mounting arguments that the power of stimulus is waning and that their credibility is at risk.
"While inflation is this low at a global level, central banks will step on the gas again and elevate asset prices for the foreseeable future," Deutsche Bank AG strategist Jim Reid said in a note to clients on Monday. "This leaves huge gap risk lower for financial markets, but that's more of a problem for when central banks are unable or unwilling to act."
Raft of Decisions
A new week brings another raft of policy decisions, led by the Federal Reserve on Wednesday and the Bank of Japan on Friday. Also on deck are Sweden's Riksbank and the Reserve Bank of New Zealand, with speculation in some quarters that each may ease again.
As others stimulate, the pressure grows to follow or face the pain of higher currencies. In arguing the effects of a weaker euro on central banks will now be a major focus for investors, Morgan Stanley strategists estimated Monday that the euro forms 16 percent of the Fed's trade-weighted dollar basket.
The Fed is expected to keep interest rates unchanged this week and investors are pushing back against the idea of a policy shift this year. That's despite Chair Janet Yellen likely being among the 13 of 17 policy makers who said last month they expect the first rate increase since 2006 by year-end.
Investors attach just a 36 percent chance to a liftoff in December, according to trading in federal funds futures. That bet may prove accurate if investors keep strengthening the dollar, according to Simon Derrick, chief markets strategist at Bank of New York Mellon Corp. in London.
"The Fed may become increasingly concerned about how far higher an actual tightening of monetary policy could end up driving the dollar," said Derrick. "December increasingly looks a struggle."
As for the Bank of Japan, markets are more divided over what it will do. While the inflation target is being undershot and the economy may be in recession, other price gauges are climbing. The government has resisted lobbing for action, potentially out of concern that easier policy would send the yen sliding and anger both U.S. officials and Japanese consumers. Morgan Stanley notes the euro accounts for just 14 percent of the yen on a trade-weighted basis.
Much may depend on the extent of a slide in industrial production in September, with data due on Wednesday.
"There is a strong move to monetary easing globally at the moment," said Angus Nicholson, markets analyst at IG Markets Ltd. "This would provide maximal impact for the BOJ should they choose to ease this week."
Before it's here, it's on the Bloomberg Terminal.
LEARN MORE