Bridgestone Will Buy Pep Boys Retail Chain for $835 Million
by and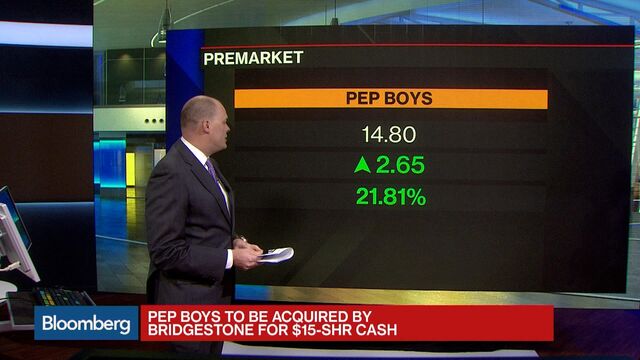 Bridgestone Corp. agreed to buy the Pep Boys retail chain for about $835 million, pushing deeper into an auto-parts industry that has benefited from Americans keeping their cars on the road longer.
The takeover price amounts to $15 a share in cash, a 23 percent premium over Friday's closing price of $12.15, according to a statement on Monday. The acquisition is slated to close at the beginning of next year.
The deal unites the U.S. subsidiary of Bridgestone, the Japanese tire giant, with Pep Boys' more than 800 auto-parts and maintenance shops. Bridgestone already operates more than 2,200 tire and automotive centers across the U.S., and the merger will create the world's largest chain of its kind, according to the statement.
"This is a clear sign that Bridgestone is committed to its retail strategy in the U.S.," said Nicholas Mitchell, an analyst at Northcoast Research Holdings LLC. "We think Pep Boys will enable them to improve their service base."
Auto-parts chains are seen as a bright spot in a retail market that has suffered from slowing foot traffic and e-commerce competition. There are more cars than ever on U.S. roads, and they're older than ever -- partly because of the lingering effects of the recession. That's increased demand for auto components and service centers.
High-Tech Cars
A new generation of more high-tech cars also has proved a boon to mechanics. They have sophisticated parts that are more expensive and harder for amateurs to work on.
Shares of Pep Boys jumped 23 percent to $14.99 after the deal was announced. The transaction price is 62 percent above where the stock traded on May 19, before speculation about a possible sale surfaced.
Pep Boys was started in 1921 by four Navy veterans who pooled $800 to open a store in Philadelphia. At the time, Ford's Model T was fueling car ownership, spurring demand for replacement parts. The chain, which now spans 35 states and Puerto Rico, sells tires and maintenance, as well as components that customers can pick up off the shelf.
Bridgestone, the world's largest tire and rubber company, was advised by JPMorgan Chase & Co. on the acquisition, with Jones Day providing legal counsel. Rothschild was Pep Boys' financial adviser, and Morgan, Lewis & Bockius LLP served as the chain's legal adviser.
With Pep Boys, Bridgestone can offer light-vehicle repair services, said Bill Selesky, an analyst at Argus Research Corp. in New York.
"That gets them into one of the growthier parts of the auto-parts business," he said.
Before it's here, it's on the Bloomberg Terminal.
LEARN MORE