Odds of BOJ Easing Increases on ECB, China Signal: Analysis
by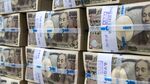 Upturn in yen implied volatilities finally begins to track euro and dollar, indicating increased bets that the European Central Bank may force the Bank of Japan to act, after ECB president Mario Draghi said Thursday he will investigate all options for more stimulus in December, Bloomberg strategist Vassilis Karamanis writes.
Pressure is also stemming from events closer to home as the People's Bank of China announced on Friday that it will cut benchmark lending and deposit rates by 25 basis points as well as lower banks' reserve ratio requirement by at least 50 basis points.
Option market prepares for action

Risk reversals, a gauge of market positioning and sentiment, show that option traders for once, seem more convinced that the BOJ will add to its unprecedented easing on October 30 or strongly hint of one this year. USD/JPY 1-week 25 delta risk reversal rose to highest in 5 months, traded to 97 basis points in favor of dollar calls by 14:09 GMT on Friday. 1-month 25 delta rose above par for the first time since August 12. 3-d volatility surface showed a clear shift of sentiment in USD/JPY as dollar upside traded in premium on tenors up to 2-months.

While economists hold back
Bloomberg survey conducted from September 29 to October 2 showed forty-two percent of economists forecast the Bank of Japan will add to its already unprecedented easing at the meeting on October 30. Takeshi Minami, chief economist at Norinchukin Research Institute, said on Friday that yen weakness on the back of ECB's dovishness takes pressure off BOJ to ease further. Etsuro Honda, adviser to Japanese Prime Minister Shinzo Abe, said the same day that immediate additional easing by Bank of Japan is not necessary, Kyodo reported.
Volatilities skyrocket
Yen implied volatilities climbed on Friday as demand for long volatility exposure intensified, a sign that investors are bracing for chopping trading in coming days. 1-week USD/JPY implied volatility was trading 416bps higher at 12.79 percent at 14:09 GMT on Friday as inverted volatility term structure steepened significantly in the front-end. Data compiled by The Depository Trust & Clearing Corporation showed demand on Friday for option structures that benefit from a higher USD/JPY spot rate.

"The production data (this week) is very critical to judge if the BOJ will ease more,'' said Masamichi Adachi, senior economist at JPMorgan Chase & Co. and former BOJ official.
NOTE: Vassilis Karamanis is a strategist who writes for Bloomberg. The observations he makes are his own.
Before it's here, it's on the Bloomberg Terminal.
LEARN MORE