Bank-Analyst Ranks May Thin on EU Research Rules, Deloitte Says
by
Report says some independent researchers may quit the market

Deloitte sees EU commission publishing rules in November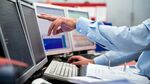 European investment banks may reduce the number of analysts they employ and some independent research providers may quit the market if draft European Union rules on how investment managers pay for research are enacted, according to Deloitte LLP.
EU regulators are seeking to break apart existing models of paying for trading and research to ensure that research isn't used as an inducement to push other business to the provider. Managers will be banned from taking such incentives from brokers under a revamp of EU financial-markets rules due to take effect in 2017.
In advice to the European Commission, the European Securities and Markets Authority proposed that portfolio managers only be able to accept broker research when they pay for it out of their own resources or from a separate account set up specifically for that purpose and funded by an explicit charge to their clients. The final shape of the regulations may become clearer in November, when Deloitte expects the commission to issue the rules.
"If implemented in their current form, we expect the rules to lead to a reduction in the number of analysts at sell-side firms and some independent research providers exiting the market," Deloitte said in a report. The greater transparency will "lead to investment managers increasing their scrutiny of the quality of research and decreasing their research budgets," forcing analysts to specialize, Deloitte said.
'New Ban'
Payment for research has proved to be one of the most difficult changes in the EU's overhaul of financial-markets rules called MiFID II. In an Aug. 25 letter to ESMA and the commission, the German, U.K. and French finance ministries said the proposal goes beyond the law it's meant to implement. The three countries are home to Europe's largest investment banks.
The proposal has "seen the emergence of the new ban of reception of investment research being paid out of trading commissions, which was not foreseen" during negotiations on the law, the ministries said.
The cost of fixed-income research is proving particularly difficult to quantify because trades take place based on the spread between the levels at which dealers will buy and sell a security. According to Deloitte, "several investment managers questioned its value and expected to reduce their consumption of it should price become more visible."
Larger investment managers and those that rely less on external research will be in a stronger position than smaller firms, according to the report.
Deloitte interviewed 13 investment managers, representing the equivalent of $730 billion of global assets under management, as well as two asset service providers and two independent external experts for the report.
Before it's here, it's on the Bloomberg Terminal.
LEARN MORE