AstraZeneca Gets FDA Advisory Panel Nod for Gout Drug Lesinurad
by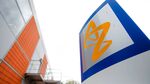 AstraZeneca Plc said a U.S. Food and Drug Administration advisory panel recommended approval of Lesinurad, a gout drug gained with the acquisition of Ardea Biosciences Inc. three years ago.
The FDA's Arthritis Advisory Committee voted 10 to 4 to clear the treatment in combination with traditional options such as Oxypurinol, Zyloprim or Uloric, the London-based drugmaker said in a statement. The drug's sales may reach $228 million in 2018, according to 10 analyst estimates compiled by Bloomberg.
Gout, a chronic and debilitating form of inflammatory arthritis, affects more than 8.3 million patients in the U.S., according to the statement. Its underlying cause is hyperuricemia, in which too high levels of uric acid leads to the deposition of crystals in the joints. Lesinurad works by inhibiting re-absorption of uric acid in the kidneys, increasing uric acid excretion.
The FDA doesn't have to follow the advice of its advisory panels, though it often does.
Before it's here, it's on the Bloomberg Terminal.
LEARN MORE