Argentine Election Punctures Peronism's Air of Invincibility
by
Whether ruling party or opposition wins, new political reality

Scioli agrees to a debate, scrambles to win the undecideds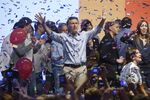 When President Cristina Fernandez de Kirchner voted in the race for her successor on Sunday, clearly expecting her party to triumph, she turned to the cameras and said, "I am leaving you a normal country."
She was right -- but not in the way she intended. Fernandez's chosen successor, Daniel Scioli, did not sail through. Instead, the opposition candidate, Mauricio Macri, surged to force a second round run-off. And therein may lie the unintended normality, said Juan Cruz Diaz, managing director of political and regulatory advisory firm Cefeidas Group.
After many decades of personality-heavy populism, Argentine politics may be tiptoeing into the world shared by most other democracies -- open to greater debate and therefore to compromise, accepting of some realistic relation to global markets and the international order.
Macri may not win in next month's run-off but he has pierced the air of invincibility surrounding Peronism, the ill-defined ideology that has dominated politics in this country since it was begun by Juan Domingo Peron some seven decades ago and asserts that Argentina lives by its own rules.
Perception of Normality
"The opposition until now has failed to create an alternative and Macri was able to build a viable candidacy," said Diaz. "The perception of normality has returned."
Sunday was not a good night for President Fernandez and her movement. It is not just that Scioli, the successor she had anointed, received a smaller share of votes than polls had predicted. Fernandez's main government spokesman, Anibal Fernandez, was her party's candidate to be governor of Buenos Aires and he lost to a relatively new face promoted by Macri, Maria Eugenia Vidal. It was the first time a non-Peronist has won the country's largest, most populous province - it's the size of Italy and represents 40 percent of Argentina's gross domestic product - since 1987.
Scioli's aides have long made clear that even he would not continue business exactly as usual because the high-priced commodities sustaining the Argentine economy had long ago plummeted. He would negotiate with the country's debtors, bring about gradual change, his advisers have said. But polls ahead of Sunday suggested it was more likely than not that he would walk into power without much of a fight. Now he has one and he is being forced into offering his plans more clearly. On Monday, he agreed to a debate with Macri, something he had rejected before.
Macri said in an interview with La Nacion that the Sunday's results had burst the myth that only Peronism can govern the country.
Still, in the 24 hours since failing to triumph, Scioli has largely repeated promises to continue Fernandez's policies of currency and price controls and strong state intervention in the economy. In a speech on Sunday he warned that Macri would bring devaluation and more debt for Argentina.
Fine Balance
"It's a fine balance of going for the Peronist voters saying that certain things will change but mostly things will stay the same," offered Daniel Kerner, head of Latin America research at Eurasia Group in Washington.
Scioli's aim is to capture voters aligned with third-placed Sergio Massa, who served as former cabinet chief under Fernandez before breaking away to form his own Peronist movement.
Of course, Macri also hopes to attract those 21 percent of Argentines who voted for Massa. On Monday, he spoke of some of Massa's key campaign policies as priorities on which he would a focus. They included tackling drug trafficking, crime and seeking to improve living conditions for pensioners. And voters will have to ask themselves, if they favor change, why vote for Scioli over Macri?
Macri's success also comes from his attempts to practice a different kind of politics, said Jimena Blanco, senior Latin America analyst at Verisk Maplecroft in London. Rather than holding large rallies, Macri and Vidal opted for door-to-door canvassing in the province. She said such a form of campaigning made them come across as "normal people who care."
Peronism, as practiced by Fernandez and her late husband in recent years, will clearly fight hard in the coming weeks. And no one is saying it is dead. But there is a growing sense that if it does not accept change it could face defeat.
"The legend that Kirchnerism was invincible has fallen," wrote Jorge Fernandez Diaz, a columnist for the opposition paper La Nacion. "Let the contest play out. And this society will have to decide which doctor to choose to save it from disaster."
Before it's here, it's on the Bloomberg Terminal.
LEARN MORE