Argentine Stocks Soar With Bonds as Vote Stokes Wagers on Change
by and
Unexpected result boosts optimism among debt, equity investors

Country's notes post biggest gains in emerging markets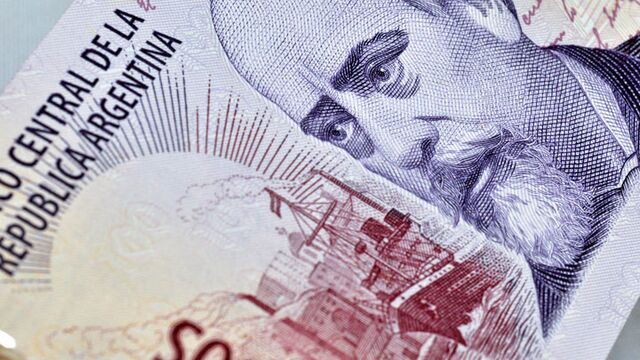 Argentine assets rallied after Mauricio Macri's surprisingly strong showing in the first round of the presidential election fueled optimism the next government will unwind interventionist policies and bring the country back to international bond markets.
Macri, the mayor of Buenos Aires, is viewed by investors as the candidate most likely to settle a dispute with creditors that caused the country to default last year, clamp down on inflation, boost growth and lure foreign capital. The nation's dollar bonds surged after his support forced a runoff election, pushing the benchmark securities to an eight-year high.
Macri has said the country needs to remove capital controls and end the stalemate with investors who sued the country after it stopped payments on $95 billion of debt in 2001, while Daniel Scioli, the favorite going into Sunday's election, has been more closely aligned with current President Cristina Fernandez de Kirchner on the issues. Argentina is confronting inflation at about 26 percent, falling prices for its biggest exports, widening fiscal and trade deficits, and an overvalued official exchange rate. Macri may be able to attract support in next month's runoff from the voters who backed the third-place candidate, Sergio Massa, according to Credit Suisse Group AG.
"A majority of Argentines were ready for a substantial change at the top -- not just in personality, but ideology," Daniel Freifeld, a partner at Washington-based Callaway Capital Management, which holds Argentine bonds, said in an e-mail. "A Scioli victory would not have been bad, but a Macri victory means this has become an economic normalization trade, not just an 'anybody but Cristina' trade."
Scioli led Macri by just 2.5 percentage points with 97 percent of the vote counted, a surprise given that many polls had showed him with a large enough lead to avoid a runoff. 
Dollar bonds due 2033, which fell into default last year, jumped 2.5 cents to 108.3 cents on the dollar at 3:50 p.m. in New York. The benchmark Merval index surged as much as 6.5 percent, the most since June, led by Banco Macro SA's 18 percent jump. The peso rallied 2.6 percent in the so-called blue-chip market, used by investors to skirt the country's currency controls, and gained 2.8 percent in unregulated street trading.
The peso in the official market, which is regulated by the central bank, weakened less than 0.1 percent to 9.5247 per dollar.
Scioli needed 40 percent of the vote and a 10 percentage-point victory margin to prevent a runoff election that is now scheduled for Nov. 22.
Argentina has been all but locked out of international bond markets since its default 14 years ago. The litigation with holdouts from the 2001 default, led by Elliott Management, triggered another default last year when the government refused to comply with an order to pay those creditors. The issue is becoming more urgent because central bank reserves -- which the government uses to pay debt and shore up the the peso -- are close to their lowest in nine years.
The average yield investors demand to own Argentine bonds instead of U.S. Treasuries fell 0.32 percentage point, the most in emerging markets, according to JPMorgan Chase & Co. indexes. Prices on dollar bonds due 2038 climbed 1.3 cent to 62.7 cents, a record high.
American depositary receipts of Argentine companies also surged, with bank Grupo Financiero Galicia SA soaring 12 percent. The ADRs of state-controlled oil company YPF SA advanced 8.2 percent.
Stocks of non-Argentine companies that do significant business in the country also rallied. In Mexico, Arca Continental SAB, the second-largest Coca-Cola bottler in Latin America, climbed 2.9 percent to its highest since October 2012. Argentina is Arca's third-biggest market, and made up 12 percent of the company's revenue last year.
In Chile, Cencosud SA, a retailer whose second-largest market by revenue is Argentina, gained the most in almost two months as it added 4.3 percent.
"These results are a very positive outcome for Macri and a big disappointment for Scioli," Casey Reckman, an economist at Credit Suisse, wrote in a report Monday. Macri "will likely have stronger momentum going in to the next month of campaigning thanks to yesterday's outcome."
Before it's here, it's on the Bloomberg Terminal.
LEARN MORE