A Short History of Chinese Bond Defaults
It really is very short.
by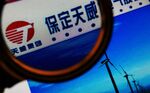 With rumblings of a potential troubles at SinoSteel, the state-owned Chinese steelmaker, savvy investors might find it worth asking about previous defaults in the country's corporate bond market. Analysts at Bank of America Merrill Lynch have the answer: There haven't been many.
That's a key point to make as China's ball of excess money comes rolling out of its volatile stock market and into the corporate debt market instead. And, with a slowdown in the country's stratospheric GDP growth now firmly in the offing, there's the potential here for a massive underpricing of risk as yield-hungry investors combine with increasingly shaky economic ground.
How investors responded to previous Chinese defaults is also, therefore, a question very much worth asking. You can see that reaction in the below BofAML charts, where there's a pretty obvious pattern at play. Spreads tend to widen ahead of news of a possible default, then tighten as investors anticipate a government-sponsored bailout or some sort of "resolution." 
As the BofAML analysts led by David Cui note:
Moral hazard is playing a key role – there is no official default so far in the bond market other than some small SME bonds (Appendix 1, a list of known problematic bonds). Credit spreads narrowed on most occasions when major bond default threats surfaced, suggesting that most investors probably counted on bail-outs (Chart 5-7) ...

 

Source: BofAML

 
The intimation is obvious; with local investors now eschewing China's stock market to chase juicier, more reliable yields available in the corporate debt market, risk could just as easily be repriced.
Already leverage, arguably built on the assumption of a default-resistant market, has been rising; BofAML notes that the country's bond repo balance has jumped a staggering 43 percent since mid-August, when an intense market selloff helped wipe a sizable chunk of value off Chinese stocks.
The key question here is what China's government will be willing and able to do should the country's now booming bond market run aground. Or, as David Keohane at FT Alphaville puts it: "Over a future unspecified time frame the government will have to normalize their operations or risk everything getting out of control and messy. In the shorter term we can only gawp and remember that said government has the firepower to keep things going for quite a while."  
Those curious as to how the government has managed to "keep things going" previously need look no further. Below is that very short list of Chinese bond "defaults" from BofAML analysts. 

How do you say "moral hazard" in Mandarin?
Before it's here, it's on the Bloomberg Terminal.
LEARN MORE