Ivory Coast Starts Counting Ballots After Election
by
President Alassane Ouattara expected to win in first round

African Union observers didn't register any incidents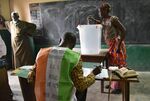 Ivory Coast began counting votes in Sunday's presidential election that's likely to extend the mandate of President Alassane Ouattara, who has led the economic recovery of the world's top cocoa producer from stagnating growth after 10 years of conflict.
The vote was peaceful nationwide and observers didn't register any incidents, Aminata Toure, the head of the African Union observer mission, said in an interview in the commercial capital, Abidjan, on Sunday. The electoral commission will release provisional results late Monday, Inza Kigbafory, a spokesman for the independent body, said. About 60 percent of registered voters turned out, he said.
"At the start there was bit of disorder in terms of equipment that didn't arrive, but that was resolved," Toure said.
Voting in most polling stations began at least an hour after the scheduled 7 a.m. opening time because booths weren't ready or equipment didn't work properly. Several polling stations operated for two hours beyond the planned 5 p.m. close to compensate for the delay, the electoral commission said in an e-mailed statement. The commission must publish the results within five days after balloting ended.
The U.S.-educated Ouattara, a former deputy managing director of the International Monetary Fund, faced six opposition candidates, including Pascal Affi N'Guessan, who heads the former ruling Front Populaire Ivoirien. Three politicians withdrew their candidacy before the vote. A runoff election is due Nov. 29 if no one gets at least 50 percent of the vote.
The election was "fair and equitable" and there were no signs of massive fraud, Ivorian civil society group Poeci, which has been monitoring the elections, said on its Twitter feed on Monday.
As he cast his ballot in central Abidjan, the 73-year-old Ouattara said that peace was a priority for Ivorian citizens. "They want to turn the page on what happened in 2010, and they want to move ahead with prosperity, progress."
Ouattara's predecessor, Laurent Gbagbo, refused to step down after losing the 2010 election, triggering a brief civil war that left more than 3,000 people dead. Gbagbo now faces charges classified as crimes against humanity at the International Criminal Court in The Hague, leaving the former ruling party fractured by leadership disputes.
Under Ouattara, the government has boosted growth to an average 9 percent annually since 2012 by investing in ambitious infrastructure projects such as bridges, highways and dams. The West African nation returned to international debt markets in July in 2014, and demand for its Eurobonds exceeded supply.
Before it's here, it's on the Bloomberg Terminal.
LEARN MORE