Ivorians Elect President in First Vote Since 2010 Dispute
by
President Alassane Ouattara expected to win in first round

Government sways voters with large infrastructure projects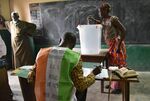 Ivory Coast began voting on Sunday in a presidential election that will probably extend the term of Alassane Ouattara, who has led the recovery of the world's top cocoa producer by boosting growth to more than twice Africa's average.
The 73-year-old former economist has overseen an economy that's expanded 9 percent annually since 2012. He faces six opposition candidates, including Pascal Affi N'Guessan, who heads the former ruling Front Populaire Ivoirien.
Voting in most polling stations in the commercial capital, Abidjan, began at least an hour after the scheduled 7 a.m. opening time. "There have been some serious delays," Mariam Dao Gabala, spokeswoman for the civil society observer group Peace-ci, said in an interview. Several polling stations still hadn't opened by noon, she said. The electoral commission is bound to publish the results within five days after balloting ends at 5 p.m. Sunday.
"This is a new start for the country," said Anne Koffi, a 48-year-old secretary, after casting her vote in Abidjan. "Ivorians aren't nervous today. Things will go well. Nobody wants another crisis."
A runoff is due Nov. 29 if no one gets at least 50 percent of the vote.
The opposition is fractured by leadership disputes since Ouattara's predecessor Laurent Gbagbo was sent to the International Criminal Court in The Hague to face war crimes charges. Gbagbo refused to step down after losing the 2010 vote, triggering a brief civil war that halted cocoa exports and left more than 3,000 people dead.
Under Ouattara, the government has splurged on ambitious infrastructure projects, including bridges, highways and dams, while cocoa and cashew harvests reached record highs. The nation returned to international debt markets in July last year, with demand for its Eurobonds exceeding supply.
During his campaign, Ouattara said he will reduce poverty nationwide, widen access to clean water, create jobs for youth and build 60,000 affordable housing units in the next five years.
The United Nations said earlier this year it is reducing the size of its peacekeeping force of 7,000 troops in Ivory Coast and may leave after the elections. UN soldiers have been deployed since 2004 following a failed coup that left the country split between a rebel-controlled north and a government-led south.
Two opposition leaders dropped out of the race because they alleged the vote wouldn't be fair. A third, former prime minister Charles Konan Banny, withdrew his candidacy on Friday. Abidjan city authorities didn't give an opposition party permission to hold a protest against the vote Thursday.
Before it's here, it's on the Bloomberg Terminal.
LEARN MORE