GM Faces Sunday Night Strike Deadline in UAW Contract Talks
David Welch, Keith Naughton and Bob Van Voris
Union said it will terminate contract at 11:59 p.m. Sunday

'The experience of the bankruptcy was searing for both sides'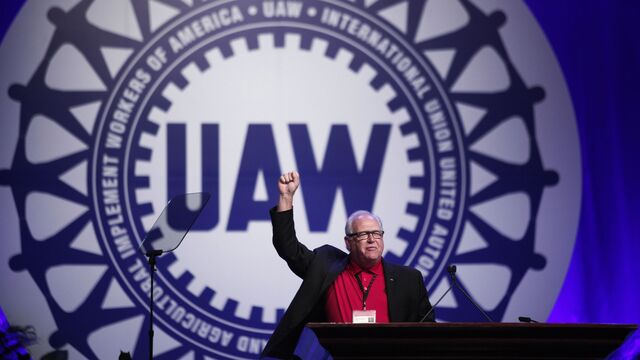 The United Auto Workers is expected to take contract talks to the brink of a strike deadline Sunday night with General Motors Co. and ultimately reach a deal that is similar, though somewhat richer, than the four-year pact it recently negotiated with Fiat Chrysler Automobiles NV.
"There's always the possibility of strike, it's never an idle threat," said Harley Shaiken, a labor professor at the University of California at Berkeley. "But I think they will find a way. The pressure of a deadline will force both sides to confront the fact that they have to compromise."
The union said Saturday it informed GM that it will terminate its contract with the carmaker at 11:59 p.m. Sunday, effectively setting a strike deadline. The Detroit-based company said it was working with the UAW "to address the issues and remain committed to obtaining an agreement that is good for employees and the business."
The move follows the UAW's deal reached Oct. 22 with Fiat Chrysler that provided raises across the board, including increases for so-called Tier 2 employees that would eventually boost their maximum wage from about $19 an hour to the more than $29 rate of senior workers. The Fiat Chrysler pact will cost the company almost $2 billion over four years, people familiar with the matter have said. UAW President Dennis Williams has sought richer agreements with GM and Ford Motor Co., which are each more profitable than FCA.
Mutual Goal
"Given that the heavy lifting has already been done at Chrysler and the fact that GM just announced record North American profits, both sides have a reason to make this work," Shaiken said. "GM is in far stronger economic shape than Chrysler, and the union will want to see more in what they get from them."
The UAW last struck GM in 2007 for two days before reaching agreement on a four-year contract that included a lower wage for new hires, the Tier 2 workers, to help the automaker through an economic downturn. GM and Chrysler ultimately went through government-sponsored bankruptcies in 2009.
"There is a profound difference between now and 2007 because GM and the UAW have built a solid working relationship," Shaiken said. "The experience of the bankruptcy was searing for both sides."
The UAW is reaching agreements that add substantially to the automakers' costs for the first time in a decade. The UAW may win greater profit-sharing and bonuses and more jobs from GM and Ford.
Senior Workers
GM and Ford may also have to provide more for senior workers, who account for about 80 percent of union members at GM and and 72 percent at Ford. The UAW will need to make them happy to get any deal ratified.
GM's workforce is seeking to phase out the two-tier pay system of previous contracts, increase job security and get more money, said Erik Gordon, a law and business professor at the University of Michigan. GM has been building goodwill with its workers in hopes of avoiding a contract rejection like Fiat Chrysler's, he said.
"The lights will be on late," Gordon said. "Neither side wants a strike."
The Fiat Chrysler contract was approved after UAW members there rejected an initial agreement and sent their leaders back to the bargaining table, where they secured larger signing bonuses and bigger raises for the second-tier workers.
200 Negotiators
About 200 negotiators, divided into 13 subcommittees focusing on issues including health care, safety and training programs, are meeting in Detroit's UAW-GM Center for Human Resources, a GM spokeswoman said. Talks are expected to go late into the night and may run up against tonight's deadline.
If the two sides fail to reach an agreement before the end of the weekend, they may agree to extend the deadline to continue talks.
Should GM and the union fail to reach an agreement, the UAW might call a strike targeting a plant that makes key parts, such as engine or transmission components, to choke off production companywide, said Bloomberg Intelligence automotive analyst Kevin Tynan. The union's strategy would be to minimize the number of workers it has to pay from its strike fund, he said.
GM said Thursday that it will add 1,200 jobs at a car factory in Detroit before announcing Friday that it plans to lay off about 500 hourly employees at its small-car plant north of the city.
Before it's here, it's on the Bloomberg Terminal.
LEARN MORE