Five Things You Need to Sort Out in Five Years If You Run China
By
Communist Party bosses gather to debate slower, greener future

President Xi's first five-year plan aims to balance economy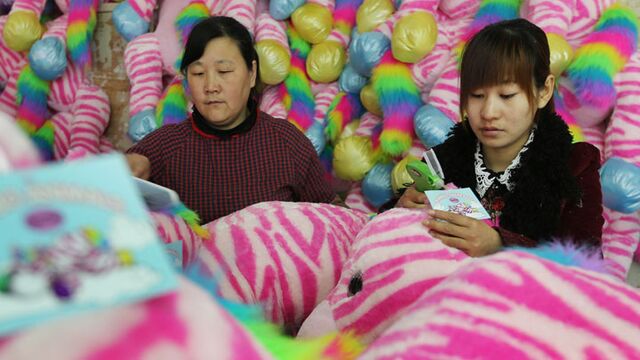 Each autumn, China's Communist Party gathers more than 350 of its top bosses to an army-run hotel in Beijing to discuss, behind closed doors, the issues facing the state. This year's plenum coincides with the unveiling of a new five-year plan for the nation, President Xi Jinping's first such blueprint.
This plan -- a Soviet-inspired cornerstone of the centrally planned economy -- will be sweeping and inclusive, touching almost every corner of nation building, from the economy to foreign policy, the military and the environment. It's the framework for Xi to fulfill his inaugural promise three years ago that by 2020 China would become a "moderately well-off society" –- meaning GDP and income per capita would double from 2010 levels.
The delegates to the four-day plenum don't make the plan -- that was masterminded by Xi's hand-picked financial team and drafted by the National Development and Reform Commission. Nor do they formally endorse it -- that's done in the spring by the National People's Congress, China's parliament. What they do is fill in some details, occasionally amend areas of the plan, and figure out how they will implement it back in their provinces and cities.
Here are five highlights we can expect from this year's gathering:
Slower Growth
What Xi's administration has dubbed "the New Normal." China will set a growth target below 7 percent for the first time since the country opened up in the early 1980s. To meet Xi's promises made in 2012, it will need to average at least 6.5 percent.
Red Turns Green
Nearly one third of the major measurements in the current five-year-plan were related to clean energy, energy conservation and environmental protection, and that trend is likely to continue. Expect energy consumption per unit of GDP and carbon dioxide emissions to both be slashed by more than 16 percent and the introduction of PM 2.5 targets for the first time -- the fine particles in polluted air that are believed to pose the greatest health risks.
Baby Steps

China is a ticking demographic time bomb and desperately needs more children. The decades-old one-child policy could finally be scrapped. A relaxation in the rules in December 2013 fell well short of boosting births by 2 million a year and the pressure is on to stem a decline in the working-age population.
The Innovation Game
A bit of a black eye in previous five year plans, research and development is one area that has stubbornly failed to meet targets as a percentage of GDP. But Xi can't ignore it if China is to ascend the value ladder and his leadership team has said publicly it wants "Made in China" to become "Innovated in China." While it's unlikely that the 2015 target of 2.2 percent will be met, the plenum may bless a new goal of 2.5 percent to 3 percent of GDP in the next five years, closing the gap on Japan's 3.5 percent and South Korea's 4.2 percent.

The Long And Winding Road
Xi's "one belt, one road" vision -- a grand design to loop together more than 60 countries in Asia, Europe and Africa loosely based around ancient trade routes -- is likely to loom large. This is Xi's signature economic and geopolitical program, so expect more details to fill out the outline released by the NDRC in March.
The China-led Asian Infrastructure Investment Bank and New Silk Road Fund will be key and the drive could help less-developed western regions like Xinjiang and Guangxi and provide an overseas market to mop up China's vast overcapacity in steel, cement and chemicals.
What Next?
None of the discussion will be public. And risk-averse party bosses tend to set fairly modest goals: more than 90 percent of the major indicators in the last five-year plan have been met, including 7 percent economic growth, creating more than 45 million new jobs, boosting the service sector and so on.
Once the meeting is over, the party will issue a communique with key points of the meeting. A draft of the five-year plan will then appear within about two weeks.