business
Barclays to BlackRock Say the China Rebound Rally Won't Last
By and
Central bank cuts interest rates for sixth time since November

Biggest U.S.-traded A-shares ETF rallies most in two months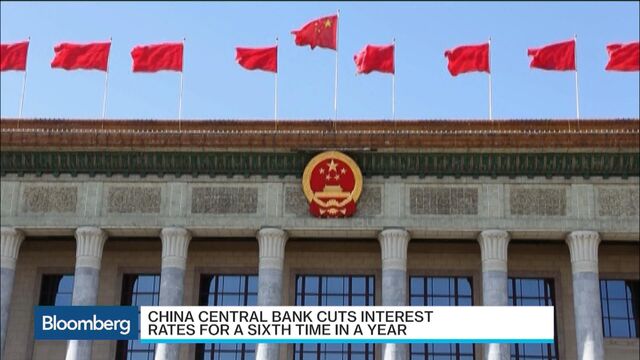 The rebound in Chinese equities spurred by the government's efforts to boost growth will probably fade as the measures underscore fundamental weakness in the world's second-largest economy, according to Barclays Plc, Blackfriars Asset Management Ltd. and BlackRock Inc.
A $582 million exchange-traded fund tracking mainland stocks jumped to a two-month high in the U.S. on Friday as the People's Bank of China, after the close of local trading, announced its sixth interest-rate cut since November. The gain pushed the advance from this year's low in August to 23 percent. The rebound has been driven in large part by speculation that the government will move more aggressively to bolster an economy projected to expand in 2015 at the slowest pace in a quarter century.
China has used a range of measures to try to control a drop-off in gross domestic product growth, which peaked at 14.2 percent in 2007 and will probably slow to 6.8 percent this year, according to economists surveyed by Bloomberg. In addition to lowering interest rates and banks' reserve requirements, the government has introduced targeted stimulus to the real estate, auto and casino industries. While data this month showed GDP increased 6.9 percent in the third quarter, the expansion was boosted by a surge in financial services because of an increase in securities trading.
"I don't think this is the start of a new move in Chinese equities higher," Ajay Rajadhyaksha, head of macro research at Barclays, said by phone from New York on Friday. The country needs economic "growth numbers to improve sharply, and that does not seem to be happening," he said.

Price swings in the Bloomberg index of U.S.-traded Chinese companies are near the widest since late 2011 following a rout that pushed the gauge down 33 percent from its June peak. The Shanghai Composite Index plunged as much as 43 percent during the same period, wiping out about $5 trillion in market value.
"Short-term the markets will take this positively," Tony Hann, head of equities at Blackfriars Asset Management in London, which invests in Asian stocks, said by phone Friday. "Longer term, there are more issues that need to be solved before one could be uniformly bullish about China."
The Shanghai Composite Index added 0.9 percent as of 10:36 a.m. local time, heading for a two-month high. The Hang Seng China Enterprises Index of the nation's shares in Hong Kong climbed 0.8 percent.
Five-Year Plan
As Chinese leaders gather this week to formulate policies for the nation's next five-year economic and social plan, they are expected to announce a dismantling of currency controls, lower barriers for foreign non-bank financial firms, emphasize home-grown technologies and prioritize population growth. Officials are targeting GDP expansion of about 7 percent for 2015.
"The market has already priced in the possibility of China stability and policy action," Amer Bisat, managing director and portfolio manager for emerging markets at BlackRock, said by phone on Friday. "Policy actions are supportive, but you need the fundamental picture to improve."
While China should avoid a "severe" contraction, an economic slowdown is "absolutely necessary" for an economy that took on too much debt too quickly and "invested in capacity that became excessive in nature," Bisat said.
President Xi Jinping said during a state visit in U.K last week that China won't see a "hard landing," despite the pressures on the economy. Some investors are betting the government is poised to implement even more measures to cushion the slowdown.
"This is not just a flash in the pan," Brian Jacobsen, who helps oversee $242 billion as the chief portfolio strategist at Wells Fargo Advantage Funds in Menomonee Falls, Wisconsin, said by phone on Friday. "The timing is particularly important. They are cutting rates ahead of the fifth plenum, where they are really going to pull out the big guns to try and support growth."
ETF Rally
Deutsche X-trackers Harvest CSI 300 China A-Shares ETF jumped 2.7 percent to $36.90 in New York on Friday, narrowing its decline for the year to 0.8 percent. The Bloomberg China-US Equity Index advanced 2.8 percent to 113.57, pushing its 2015 gain to 4 percent.
Copper futures declined for the fifth time in six days on Friday as commodity traders shifted from optimism over China's interest-rate cut to focusing on the nation's lackluster demand for raw materials. The Asian country accounts for almost half of global demand for the metal.
"If the economy was growing so close to the target, there would be no need for stimulus," Ruchir Sharma, head of emerging markets at Morgan Stanley Investment Management, said on Bloomberg Television on Friday. "The Chinese government is obviously really worried by what they see and they feel compelled to act."
— With assistance by Elena Popina
(Updates with Monday's Asia trading in seventh paragraph.)
Before it's here, it's on the Bloomberg Terminal.
LEARN MORE