Argentina's Scioli Leads in Election That May End in Run-Off
by
Ruling party's Scioli on cusp of first-round presidential win

Lower house, Senate seats and governorships are also on ballot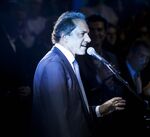 Polls closed in Argentina on Sunday in the first presidential election in 12 years that didn't feature a Kirchner -- either President Cristina Fernandez de Kirchner or her late husband, Nestor.
Buenos Aires province Governor Daniel Scioli, of Fernandez's Victory Front alliance, was ahead opposition candidate Mauricio Macri, with an ample lead, according to exit polls broadcast by C5N. But it wasn't clear whether he had garnered sufficient votes to avoid a run-off in November. The average of exit polls points toward a second round, La Politica Online reported.
During the election campaign, both candidates promised some degree of change from Fernandez's economic policies that include currency and trade controls, as well as trade protectionism.
Sergio Massa, Fernandez's former cabinet chief who broke away to form a dissident Peronist alliance, trails the front-runners in voter opinion surveys and has positioned himself midway between Scioli's pledge of gradual change and Macri's plans for deeper and faster reform. Close to 80 percent of the electorate, or about 25 million people, voted according to Justice Minister Julio Alak.
While Scioli is favored to win, avoiding a second round on Nov. 22 depends on whether he can attract more than 40 percent of votes and hold a 10 percentage point lead over his rivals. A poll by Raul G Aragon & Asoc. published Saturday gave Scioli 39.4 percent of support, followed by Macri, the mayor of Buenos Aires, with 29.2 percent. Massa had 21.7 percent, with a margin of error of 2.7 percentage points.
Argentines are also voting to choose a vice president, half of the 257-member lower house of Congress, one-third of the 72-member Senate, the governors of 11 provinces, mayors, lawmakers and senators for provincial legislatures and members of the Mercosur trade bloc's parliament.
Election Threshold
The closer the results are to the threshold, the higher the chances are of accusations of fraud or a protracted recount.
"My concern is that it's too tight an election to be called on Sunday night," Alan Clutterbuck, president of the Fundacion RAP, a group that pushes for dialogue within Argentine politics. "We could have a situation where two or three percentage points need to be counted and we go into this Al Gore/Florida mode in which we can have a significant legal dispute that eventually escalates up to the Supreme Court."
Before it's here, it's on the Bloomberg Terminal.
LEARN MORE