Valeant Director Ingram Says Pearson Has Board's Full Support
by
Company was accused of fraud by short seller Citron Research

Drugmaker's stocks, bonds have plunged since report published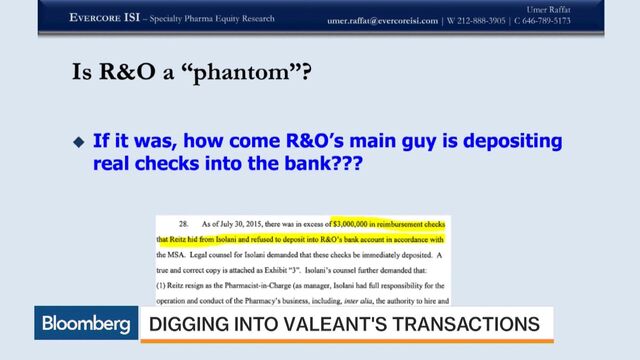 Robert Ingram, a director of Valeant Pharmaceuticals International Inc., said Chief Executive Officer Michael Pearson has "unanimous and strong support" from the board.
Ingram's comments late Friday came after a week of criticism piled on drugmaker Valeant, including an accusation of fraud from short seller Citron Research. Valeant's shares have plunged 21 percent since the report was published Wednesday and the company has lost more than $10 billion in market value.
Ingram declined to comment on the specifics of Valeant's accounting and its use of specialty pharmacy firms that Citron had questioned, saying the issues will be addressed in a conference call with investors Monday. Ingram was previously chief executive of Glaxo Wellcome Plc and helped recruit Pearson to lead Valeant in 2008, when the floundering company had a market capitalization of about $2 billion. Today, its market value is $39.6 billion.
"It's been a phenomenal success," Ingram said by telephone. "Mike is one of the most proven people I've met in terms of over-delivering on what he commits to." Ingram also said Pearson was "one of the most transparent CEOs I've worked with."

As Valeant's share price has plunged amid questions about its accounting practices, other pharmaceuticals companies including Endo International Plc, Allergan Plc, Horizon Pharma Plc and Mallinckrodt Plc have moved to distance themselves. Valeant was, until recently, considered a Wall Street darling following a series of acquisitions.
Citron Research said Valeant is using a specialty pharmacy called Philidor RX Services to store inventory and record those transactions as sales. Valeant has said those allegations are "erroneous," adding that sales are recorded only when drugs are sent to patients.
Dogged Critic
Citron has been a dogged critic of Valeant's business model, denouncing its reliance on acquiring drugmakers and then jacking up the prices of their products, which have been on the market for years.
The report names several pharmacies, including R&O Pharmacy, that share a phone number with Philidor and have similar text on their websites. Valeant said that's because Philidor provides logistics and compliance support to other pharmacies, including R&O. The twist is that R&O Pharmacy has sued Valeant. In a lawsuit filed in federal court in California, R&O said it had gotten a letter from Valeant's general counsel on Sept. 4 indicating that it owed Valeant more than $69 million. It had never received a previous invoice from Valeant for any amount.
Valeant has meanwhile been at the forefront of an intensifying debate over price increases for older drugs in the U.S. Earlier this month it said it had received subpoenas from the U.S. Attorney's Office in Massachusetts and the Manhattan U.S. Attorney's Office seeking information on its patient assistance programs, drug distribution and pricing decisions. It's also been scrutinized by lawmakers for pushing up the prices of heart drugs Isuprel and Nitropress -- and Citron has said those price hikes have disguised a lack of growth. Valeant has disputed Citron's figures.
Citron's allegations also hurt Valeant's bonds. Its $3.25 billion of 6.125 percent notes due 2025 fell to 87.75 cents on the dollar from 96.25 cents on the dollar last week, Trace data show. Sold to investors at par, or 100 cents on the dollar in March, they touched a record-high 105.13 cents in April.
Valeant has some $31 billion of bonds and loans outstanding, according to data compiled by Bloomberg.
JPMorgan Chase & Co. earlier cut Valeant's bonds to neutral from overweight on the controversy. "We have to admit we underestimated the degree to which Valeant developed into a lightning rod for controversy," analysts led by David Common wrote.
Before it's here, it's on the Bloomberg Terminal.
LEARN MORE