The Comedian Versus the Ex-First Lady: Guatemala Votes
by
Corruption tops agenda after president jailed for bribery

Winner of vote will face fractured congress, falling tax take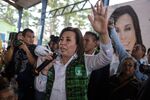 Guatemalans went to the polls Sunday to choose a new leader in a year that saw their president, vice president and central bank chief jailed to face charges for alleged involvement in graft schemes.
The Sept. 6 first-round presidential ballot winnowed a 14-candidate field down to just two: Jimmy Morales, a comedian who has never held political office, and former first lady Sandra Torres. Morales, who ran under the slogan "neither corrupt nor a thief," placed first in September with 23.9 percent support to the 19.6 percent garnered by runner-up Torres. An opinion poll released Wednesday showed Morales with a 2-to-1 advantage over Torres.
"To those who win, work tirelessly, and to those who lose, be prepared to oversee and inquire. Everyone has work," said President Alejandro Maldonado, a former Constitutional Court justice.
Since President Otto Perez Molina was forced resign his post on Sept. 2 to await trial for bribery and tax fraud, corruption has emerged as a top concern for voters in Central America's biggest economy. In the run-up to the elections, demonstrations demanding that Perez Molina step down had attracted as many as 70,000 people in this country of 14.6 million.
Political Discontent
"Corruption is the main topic on the agenda, and that's going to continue," said Paulo de Leon, director of research group Central American Business Intelligence. "Jimmy isn't from the political establishment, and I think that's why he's been able to capture people's discontent with the political class in the country."
According to a ProDatos poll published Oct. 21 in the newspaper Prensa Libre, Morales has 67.9 percent support to 32.1 percent for Torres. The Oct. 9-14 survey of 1,201 likely voters had a 2.8 percent margin of error.
Voting stations opened at 9 a.m. ET and close at 8 p.m. About 7.5 million people are eligible to vote. The winner of the election will take office Jan. 14.
"I expect the next government to behave well because if not we'll throw them out," said Luis Prieto, a 70-year-old farmer, after casting his vote. "They are our employees and we need to demand that they work for the people."
Platforms
The 46-year-old Morales has proposed changing Guatemala's 1 percent metal mining royalty that he's called "ridiculous" and "unjust," by ordering environmental and economic studies to determine a different amount. Attempts to boost royalties in recent years have failed. Guatemala has struggled to boost tax revenue that is already among the lowest in Latin America as a share of gross domestic product and is projected to fall further.
In an interview on Saturday, Morales said he would seek to expand the tax base by encouraging informal workers and small businesses to join the formal economy. He has pledged to lower interest rates for small and medium business loans and promised to increase the government budget to crack down on corrupt officials.
'Improper Payments'
When asked if he would instruct Guatemala's Attorney General to investigate alleged "improper payments" made by telecommunications giant Comunicaciones Celulares SA, Morales said "Yes, of course."
"The Attorney General's Office has to investigate all acts of corruption and the justice system has to impart justice," Morales said.
Torres, who has called Morales a "beginner" who would "improvise" as president, said earlier this week she would target government spending by granting public-private concessions for jails and use 5 billion quetzals ($650 million) in already-approved loans to finance government operations in 2016.
"Whoever wins needs to focus on creating jobs and pay close attention to the economic situation in Guatemala," said Karin Raymundo, a 33-year-old banker.
'Stable' Policy
Guatemala's $59 billion economy, which exports coffee, textiles and gold and serves as a gateway between Latin America and the U.S. for migrants and drug trafficking, is expected to expand 3.6 percent to 4.2 percent this year, according to the central bank.
Sunday's winner will inherit a proposed budget for 2016 of 72.4 billion quetzals that would include a fiscal deficit of 1.9 percent of GDP. The plan calls for 11 billion quetzals in debt issuance for 2016, up from 4 billion quetzals this year. Finance Minister Dorval Carias said the government would consider selling global bonds to finance the spending gap.
"The next president will face political constraints, with a highly fractured congress preventing meaningful reform," Eurasia Group analyst Cameron Combs wrote in a note to clients Oct. 19.
The yield on Guatemala's 5.75 percent dollar bond maturing in 2022 has risen 36 basis points this year to 4.77 percent. Moody's Investors Service rates Guatemala at Ba1, one level below investment grade, while Standard & Poor's has it a step lower at BB.
Before it's here, it's on the Bloomberg Terminal.
LEARN MORE