Hurricane Patricia Spares Mexico
Jose Enrique Arrioja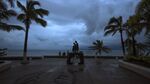 Hurricane Patricia hit Mexico's west coast in an area between commercial centers and rapidly broke down into a tropical depression, sparing Latin America's second-biggest economy from a feared catastrophe.
"So far, there are no reports of major damage from Patricia," President Enrique Pena Nieto said Saturday on Twitter before heading to Manzanillo, a city in the state of Colima, to inspect damages.

Evacuations and security measures put in place ahead of the hurricane helped spare lives and infrastructure, Communications and Transportation Minister Gerardo Ruiz Esparza told reporters earlier in the day in Guadalajara, Jalisco, the state most affected. Mexico City-based newspaper El Universal reported on its website that Jalisco endured minor damage with no human casualties.
Patricia -- which before making landfall was the strongest storm ever recorded in the Western Hemisphere -- was downgraded to a tropical depression at 10:32 a.m. New York time after hitting Mexico evening near Cuixmala as a Category 5 hurricane, the highest level on the Saffir-Simpson scale.
Remnants of Patricia will push across northeast Mexico into coastal sections of Texas Saturday evening, according to the U.S. National Hurricane Center in Miami, causing heavy rain on the western Gulf coast through this weekend. "These rains may produce dangerous flash floods," the agency said
Restoring Power
Mexico's state-owned power company, Comision Federal de Electricidad, said 235,000 customers in the states of Jalisco, Colima and Michoacan suffered service interruptions. By 11 a.m. local time the company has managed to restored power to half of them, the CFE said in a statement posted on its website.
Data and voice services provided by Telefonos de Mexico were affected in 29 cities in the states of Jalisco, Colima, Michoacan and Nayarit, El Universal reported on its website, citing a statement from the telecom company controlled by billionaire Carlos Slim. Telmex, as it's known, is set to re-establish service as soon as possible, the newspaper said.
State-owned Petroleos Mexicanos said via Twitter that its gasoline supply was guaranteed, adding the hurricane caused "no major damage" to its operations. In states close to the main path of Patricia, such as Michoacan, homes were damanged and heavy rains will probably cost millions of Mexican pesos to papaya and plantain growers, El Universal reported.
Almost Normal
Airports at Tepic, Puerto Vallarta and Colima have reopened and operating almost normally, Ruiz Esparza said at about noon Mexico City time.
Mining companies such as Canada's Goldcorp Inc. were not affected. "The impact of the storm has been minimal at the mine site," Christine Marks, a director of corporate communications, said in an e-mail. "We are experiencing light rain and fog at Penasquito and normal operations continue at this time." Penasquito is located in state of Zacatecas.
Puerto Vallarta, a beach resort destination north of the hurricane's landfall, was reported to have moderate rain and its main services were unaffected, newspaper Reforma said on its website.
More than 10,000 tourists were evacuated from Puerto Vallarta in anticipation of the hurricane, El Universal said. About 400,000 people were considered "vulnerable," civil protection official Jose Maria Tapia told reporters in Mexico City Friday.
"The first reports confirm that the damages have been smaller than those corresponding to a hurricane of this magnitude," Pena Nieto said Friday night in a televised message to the nation. "We cannot yet let our guard down," he said.
Weakening Quickly
Patricia at landfall packed winds of 160 miles (260 kilometers) per hour, down from 200 mph earlier, according to the U.S. National Hurricane Center in Miami. Patricia struck about 55 miles west-northwest of Manzanillo, Mexico's busiest container port. Sustained winds were down to 35 miles per hour but "heavy rain threat continues," the center said Saturday.
"Even though Patricia is weakening quickly, strong and damaging winds at higher elevations could persist through this morning," the hurricane center said. The storm will break up over the mountains of Mexico by Saturday night, the center said.
Mexico deployed about 3,000 soldiers and ordered the evacuation of areas close to the hurricane path as the storm approached, Reforma reported Friday.
Kinetic Analysis Corp. had projected the storm could cause more than $4.5 billion in damages, with about 16 percent of that total incurred by insurers.
Hurricane Patricia forced the closing of ports in Vallarta, Manzanillo and Lazaro Cardenas, according to the Communications and Transportation Ministry. Manzanillo has a liquefied natural gas terminal and a rail line operated by Ferromex, owned by Grupo Mexico SAB and Union Pacific Corp.