Bulgaria, Romania, Serbia Ready to Close Borders for Migrants
by
Bulgarian, Serbian, Romanian premiers discuss refugees

Bulgaria, Romania, Serbia worried by closing of some borders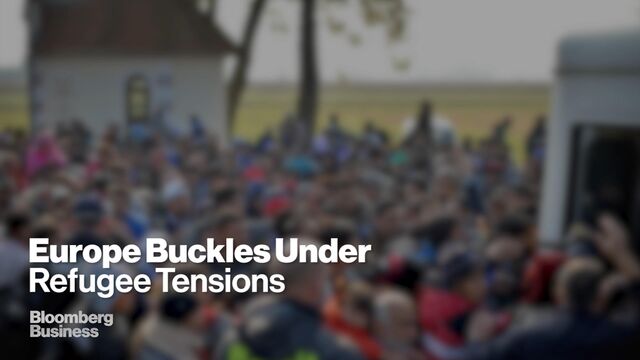 Bulgaria, Romania and Serbia are concerned that possible closing of borders for migrants by some European Union countries may cause a bottleneck stranding millions of refugees on their territory, forcing the three states to close their borders as well.
Bulgarian Prime Minister Boyko Borissov met Romanian and Serbian counterparts Victor Ponta and Aleksandar Vucic in Sofia Saturday to coordinate their policies before EU leaders gather on Sunday to forge plans to control the region's worst migrant crisis since World War II.
"If Germany and Austria or other states close their borders for migrants, we won't allow our countries to become a buffer zone for millions of migrants stranded between Turkey and the new barriers that may follow," Borissov told reporters in Sofia. "We're also prepared to close our borders immediately."
With more than a million migrants set to reach the EU this year and cold weather settling in, national authorities have taken unilateral decisions to close borders and send asylum-seekers to neighboring countries. Civil-war-torn Syria, origin of many of the refugees, could become an even bigger exodus point as Russia pursues a bombing campaign in support of Syrian President Bashar al-Assad.
Closing Gates
"If you look at the map, Bulgaria, Serbia and Romania are the gate to Europe," Romania's Ponta said at the same briefing. "We have to act together and with all other EU states, but when someone behind these three countries raises a new gate, we'll have to reconsider our policy."
Slovenia earlier this week gave its army extra powers to help police border posts while Hungary closed its borders with Serbia and Croatia. The action has led to bottlenecks with thousands of refugees, mainly from the Middle East and north Africa, massing in outdoor border areas overnight. Bulgaria is setting up a wire fence since last year along its 160-kilometer (99-mile) border with Turkey, of which about a 30-kilometer section is in place.
"If someone thinks that we're the place, where there will be two or three million refugees, that's an unrealistic position," Serbia's Vucic said at the briefing. "Our three states agreed that they can not accept such a scenario."
The main flow of migrants fleeing conflict-stricken nations changed from a route through southern Europe to one leading from Turkey to Greece and through former war-torn nations including Croatia, Serbia and Slovenia.
Before it's here, it's on the Bloomberg Terminal.
LEARN MORE