Drugmakers Are Distancing Themselves From Valeant
by
Drugmakers' stocks have plummeted on their competitor's woes

Endo CEO De Silva sees R&D spending at 5% to 6% of total sales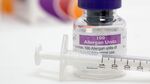 Endo International Plc used to be known as a "mini-Valeant," back when that was considered a good thing.
But Endo's chief executive officer and others across the pharmaceuticals industry want the world to know: we're a different beast.
As Valeant's share price has plunged this week amid questions about its accounting practices, Endo, Allergan Plc, Horizon Pharma Plc and Mallinckrodt Plc have moved quickly to distance themselves from the company, which until the last few weeks had upended the industry and become a Wall Street darling with a series of acquisitions.
The situation is particularly delicate for Endo CEO Rajiv De Silva because he used to be Valeant's president. After four years at the drugmaker, he says he joined Endo to do something new: build a more diversified drug company with brand-name and generic units that doesn't depend solely on deals for growth.
"We have never done transactions where the value was in increasing price," De Silva, 48, said in an interview.
When De Silva joined Endo, his Valeant experience was viewed as a plus. Like Valeant CEO Michael Pearson, he was a former consultant at McKinsey & Co. But De Silva had been in the pharmaceutical industry for a decade, joining Novartis AG in 2003 as global head of strategic planning. At Valeant, he had been responsible for sales and marketing, research, manufacturing and business development for specialty drugs.
At Endo, he quickly launched into acquisition mode, signing off on about 10 deals worth a total of $12.8 billion, according to Bloomberg data, capped off by an $8.1 billion agreement in May to buy Par Pharmaceutical Holdings Ltd. His company's shares more than tripled, hitting a peak in April. Then Valeant's troubles began -- criticism by lawmakers in Washington, subpoenas, a scathing report by a short-seller -- and Endo stock tumbled as well.

Analysts have rushed to Endo's defense. Because of De Silva's career history and acquisition spree, the company is being "unfairly lumped" in with Valeant, with pricing behavior on the "more modest side of average," Deutsche Bank analyst Gregg Gilbert said earlier this month.
"It's being dragged down by everybody else," said Annabel Samimy, an analyst at Stifel Nicolaus & Co. "Their fundamentals are intact, they're still growing double digits, they're still a very large and profitable company, because they generate a large amount of cash flow, because of their strategy."
Allergan, Horizon and Mallinckrodt all put out statements this week saying they don't have ownership relationships with their distribution networks like Valeant does. And the drug industry's lobbying group in Washington, Pharmaceutical Research and Manufacturers of America, took the rare step of harshly criticizing an individual company. Valeant's strategy "is more reflective of a hedge fund than an innovative biopharmaceutical company," PhRMA said.
In response to PhRMA's statement, Laurie Little, a Valeant spokeswoman, acknowledged that the company had a different model than much of the rest of the industry. "We believe innovation should not be judged by how much you spend, but by the new products that a company is able to bring to market, and our goal has been to bring multiple, high-quality, innovative products to the market year after year," Little said.
A Valeant spokesman declined to comment Friday on other drugmakers' statements.
Citron's Report
While lawmakers have focused on Valeant's drug prices, stock-commentary site Citron Research leveled allegations this week that the company uses a specialty pharmacy called Philidor RX Services to store inventory and record those transactions as sales. 
Valeant called the short seller's claim that it recorded fake sales to phony customers "erroneous" and said sales are recorded only when drugs are sent to patients.
Endo also uses specialty pharmacies to dispense men's health drugs such as Xiaflex, Aveed and Testopel. Endo said less than 10 percent of U.S. revenue from brand-name drugs this year will flow through specialty pharmacies, based on the midpoint of its sales forecast. That's 3 percent of the Dublin-based company's total projected 2015 revenue, it said. Endo said it doesn't own the specialty pharmacies it uses.
"We do think specialty pharmacies can play an important role in complex, high-cost, physician-administered products," De Silva said. Endo uses nationally recognized specialty pharmacies and isn't the sole customer for any of those it distributes through, he said. It doesn't have an ownership stake in any specialty pharmacy either.
De Silva declined to discuss Valeant's troubles.
Patient Safeguards
"Essentially the specialty pharmacy is the intermediary that deals with the doctor and with the insurance companies," he said. "As a pharmaceutical company, you have to put a lot of safeguards to ensure patient privacy is upheld. That's one example of the complexity that's increased if you own one of these."
De Silva said he's continuing to look for deals, particularly small- to medium-size ones that give the company new assets. He didn't rule out larger acquisitions, though, adding that "we are creative dealmakers" and "opportunistic."
As for research and development spending -- the other arm of his plan for growth -- De Silva said the company's priorities haven't changed. It's still targeting spending of 5 percent to 6 percent of sales -- "a reasonably high number" for a company that makes a mix of brand-name and generic products, he said. Endo spent about 5.4 percent of sales on R&D last year, compared with about 3 percent for Valeant. The average for brand-name drugmakers is about 20 percent, according to PhRMA, the lobbying group.
Endo has been able to increase prices on certain products, but De Silva said that after discounts negotiated with insurers, price increases for brand-name drugs have been in the low single-digit range, and he expects it to stay that way. After getting 15 percent of its growth from price increases in the third quarter, Valeant said earlier this month that its prices will increase at a low single-digit rate next year.
De Silva doesn't expect the political scrutiny of price increases to go away.
"As you look forward, will there be more focus on price increase in terms of their appropriateness? Absolutely," he said. "But we already do that appropriately, so I don't think that will have an implication for us."
Before it's here, it's on the Bloomberg Terminal.
LEARN MORE