Volvo Says Weaker Krona Helped Boost Profit as Orders Fell
by
Truck orders dropped 15%; construction equipment fell 35%

Volvo is less than halfway to reaching cost-cutting target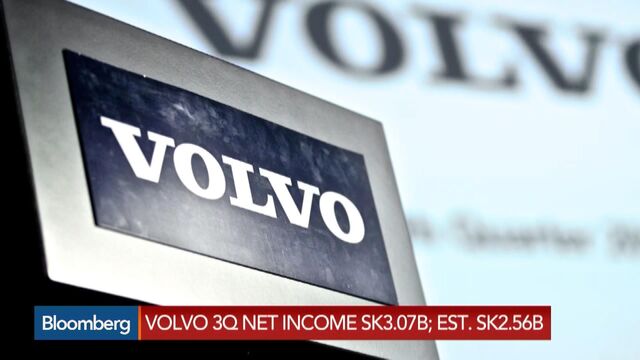 Volvo AB said the krona's decline on currency markets helped boost third-quarter operating profit even as truck orders, a predictor for future sales, dropped 15 percent. The stock gained to a five-week high.
Earnings excluding interest, taxes and costs related to restructuring surged 75 percent to 5.1 billion kronor ($604 million), Gothenburg, Sweden-based Volvo, said Friday in a statement. Advance sales contracts for trucks declined to 42,648 vehicles, while orders for construction equipment dropped even more, falling 34 percent to 7,898 units.
Volvo, the world's second-biggest truckmaker, is restructuring to become more profitable amid pressure from investor Cevian Capital AB while contending with market declines in China and Brazil. The manufacturer remains less than halfway to reaching a goal of cutting 10 billion kronor in annual costs by next year, as savings on a 12-month rolling basis reached 4.2 billion kronor in the quarter.
Commercial-vehicle manufacturers including Daimler AG, the world's biggest truck producer, have been counting on demand in Europe and North America to sustain profit and make up for weakening economic growth in China and a recession in Brazil. While Volvo reiterated a forecast for North America's truck market to expand 15 percent in 2015, demand in the region is also declining, "albeit from a very high level," acting Chief Executive Officer Jan Gurander said in the statement.
"They'll struggle to meet their efficiency target," said David Jacobsson Cederberg, a Stockholm-based analyst at Pareto Securities. "They'll get there for the most part, but probably not all, because of the change in demand conditions," he said, citing a mix of a more positive outlook for Europe, the negative guidance on North America and poor prospects for next year for construction equipment.
Volvo rose as much as 4.1 percent to 90.75 kronor, the highest intraday price since Sept. 17, and was trading up 2.6 percent as of 9:11 a.m. in Stockholm. The stock has gained 5.7 percent this year.
Third-quarter sales jumped 9 percent to 73.3 billion kronor, and the operating margin widened to 6.9 percent of revenue from 4.3 percent. Truck deliveries rose 3 percent, bolstered by growth of 13 percent in Europe and 10 percent in North America. Exchange-rate effects added 831 million kronor to operating profit. The company said it's evaluating selling its Arrow Truck Sales used-vehicle unit in North America, which includes a customer finance portfolio worth about $250 million.
Daimler AG said Thursday that its truck deliveries rose 2 percent to 128,4966 vehicles for an operating return on revenue of 8.2 percent, above its target. The Stuttgart, Germany-based company tempered its forecast to a "slight" increase in sales this year, compared with a previous goal of a "significant" gain, as recovery in Brazil remains distant and demand in Indonesia weakened.
Before it's here, it's on the Bloomberg Terminal.
LEARN MORE