Thomas Stemberg, Founder of Staples Retail Chain, Dies at 66
Stephen Miller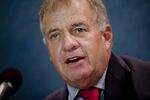 Thomas Stemberg, the founder and former chief executive officer of office-supply superstore Staples Inc., has died. He was 66.
He died Friday at his home in Chestnut Hill, Massachusetts, his son, William Stemberg, said in an e-mail. The cause was gastric cancer.
Stemberg wrote the business plan for Staples and with backing from supermarket magnate Leo Kahn opened the first store in 1986.
The chain today is the largest U.S. office-supply retailer and has more than 1,600 stores in North America. It had $22.5 billion of revenue in its latest fiscal year, according to data compiled by Bloomberg.
Mitt Romney, the 2012 Republican U.S. presidential candidate, was an early backer for Staples when he was an executive with Boston-based Bain Capital Partners. Romney often cited the Staples story in his campaign speeches.
"Tom is one of the great business leaders of our state and nation," candidate Romney said of Stemberg, according to a Boston Globe article. "He was not only the founder, but someone who grew the company to a multi-billion dollar enterprise."
At the 2012 Republican National Convention in Tampa, Stemberg spoke in support of Romney.
Venture Capitalist
Stemberg served as CEO until 2002 and chairman until 2005. That year he joined Highland Consumer Partners, a Wellesley, Massachusetts-based venture capital firm, where he was managing general partner. The firm focuses on the consumer industry.
He also founded Olly Shoes, a children's footwear retailer, and Zoots, a dry cleaner.
"When I invest, I look for two things above all: a great market and a great entrepreneur," Stemberg said, according to an article in July-August issue Inc. magazine last year. "The business plan is going to change. The team is going to evolve. But if you have a leader who can inspire others and a growing market that offers you an opportunity to differentiate yourself, typically you'll have a winner."
Thomas George Stemberg was born on Jan. 18, 1949, in Newark, New Jersey, to Oscar Michael Stemberg and the former Erika Ratzer, both Austrian immigrants, according to Marquis Who's Who. After his father died when he was 13, he moved with his mother to her native Vienna, where he attended the American International School, according to "The Guru Guide to Entrepreneurship," a 2001 book by Joseph H. Boyett and Jimmie T. Boyett.
Harvard Education
Stemberg returned to the U.S. to attend Harvard University in Cambridge, Massachusetts, earning a bachelor's degree in
1971. Two years later, he received an MBA from Harvard Business School.
Stemberg's marriages to Maureen Sullivan and Dola Hamilton ended in divorce. In 2009, he married Katherine Chapman, who survives him. He also is survived by five other sons: Rylan Hamilton, Darrell Williams, Thomas McDermott Stemberg, Clyde Stemberg and Michael Stemberg, William Stemberg said.
Before it's here, it's on the Bloomberg Terminal.
LEARN MORE