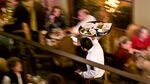 Cooks, maitre d's, waiters and waitresses -- they all cater to your dining needs.  Yet only the wait staff stand to win or lose from your largesse come check time. New York restaurateur Danny Meyer announced last week that he is banning tipping at his restaurants, a move that could overturn the economics of the food service industry should other employers follow suit. 
Here are the realities that you should know about the people who make and serve your food. 
1. The numbers
There were 2.4 million servers and 1.1 million cooks working in U.S. restaurants as of May 2014. Those numbers will probably grow to 2.5 million and 1.2 million respectively by 2022, according to the Bureau of Labor Statistics. 
Some 4.3 million Americans classify as tipped employees, of which about 60 percent are either waiters, waitresses, or bartenders, according to David Cooper, a senior economic analyst at the Washington-based Economic Policy Institute who co-authored a 2014 report on tipped workers.
2. A two-tiered wage system
At many restaurants, tipping has given rise to wage disparities between front and back of house staff.
Generous patrons might not realize that higher tips mean nothing for the cooks, dishwashers, and other restaurant employees who work behind the scenes. Those workers are legally barred from inclusion in tip sharing. That's created a large wage divide at the end of the day between customer-facing employees and kitchen staff at some restaurants. Meyer cited this in his letter announcing the decision to eliminate tipping, saying "hospitality is a team sport." 

Data from a 2014 survey of New York City restaurant employers show that servers earn almost double the average hourly wage of $13.00 an hour for line cooks. The disparity is most pronounced at higher-end restaurants in major cities with affluent clientele, according to Bloomberg Intelligence analyst Michael Halen.
3. A shortage of cooks
Restaurants are facing a shortage of talented cooks in part from the earnings gap between kitchen and dining room staff. According to Halen, it's become "tough to justify the cost of culinary school" given the current entry-level wages for cooks. At the Culinary Institute of America, tuition alone totals $111,720 over four years.  In order to attract the best talent and ensure equitable pay based on skills and experience, restaurant owners want to assume fuller control over how their employees' wages are distributed, rather than leave that to the customer's discretion, Halen says. 
4. A stagnant minimum wage
Because tipped workers earn extra, they are excluded from the federal minimum wage. They're promised a lower rate called the subminimum wage. The federal subminimum wage of $2.13 an hour hasn't budged since 1991, while the regular federal threshold has been raised five times since 1991. 

Customers have assumed the burden left by decades of policy inaction, according to Cooper: The expectation for gratuities has increased from 15 percent years ago to something closer to 20 percent today. "The fact that tipping norms have changed so much is related to the fact that the real value of the tipped minimum wage is falling," he said. 
Eliminating tipping would mean getting around this outdated minimum wage altogether.
Could a no-tipping policy in America become the norm? That's something Bloomberg's Halen says will come down to what the customer wants. "In five to ten years from now, if it's found that customers prefer this method, and sales and traffic at no-tipping restaurants like Danny Meyer's hold up, you'll see this start to spread."
Before it's here, it's on the Bloomberg Terminal.
LEARN MORE