Tequila Ingredient Safe as Hurricane Bears Down on Mexican Crops
by
Corn, sorghum, papaya may be damaged by raging Patricia

Rain will be like `glass of water' for agave crop, grower says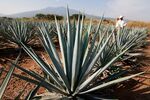 The fields of agave in the Mexican state of Jalisco, vital in the production of tequila, probably will be protected from the wrath of Hurricane Patricia by the Sierra Madre Occidental mountains. Corn, sorghum and papaya crops might not be so fortunate.
Patricia, the strongest hurricane ever recorded in the Western Hemisphere, is hours from striking near Mexico's biggest port and a popular holiday resort with winds as high as 200 miles (323 kilometers) per hour, or Category 5 major storm strength, according to the U.S. National Hurricane Center in Miami.
Crops including cocoa, mango and sugar cane will also be affected because of their proximity to the coast, Alely Lopez, an official at Mexico's agriculture ministry, said in a telephone interview from Mexico City. "We don't see damages for the agave. The other crops located near the ocean may be hit by the winds."
Bacardi Ltd. sees no cause for concern, said Amy Federman, a spokeswoman for the Bermuda-based company, which owns Cazadores Tequila. The mountains stand between the coast and the highlands where agave is grown, she said.
The approaching rain is arriving at the right time to help the plants mature following planting from May to July, said Francisco Javier Guzman de la Torre, a farmer who harvests by hand 100 to 150 metric tons a year of agave.
Corn Crop
"This hurricane will be like a glass of water in the middle of the day for our beloved agave," Guzman said Friday in a telephone interview from Jalisco, the main source of the tequila ingredient. "The agave has a big absorption capacity, and the only way it may be hurt is if it rains for many days, which is not going to be the case."
Jalisco accounts for 14 percent of Mexico's corn and the crop there is ripening, according to data compiled by the U.S. Department of Agriculture.
"There is a good chance wind and as much as to 12 inches of rain will do some damage" to unharvested crops, Joel Widenor, director of agriculture services for the Bethesda, Maryland-based forecaster, said in a telephone interview.
Before it's here, it's on the Bloomberg Terminal.
LEARN MORE