Rand Drops as Violent South African Protests Add to Budget Woes
by
Rand leads losses among emerging market, major currencies

Nedbank's Nalla sees more weakness if protests escalate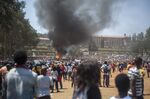 South Africa's rand fell for its biggest weekly decline in a month and bonds tumbled as protests marred by violence added to negative sentiment after Finance Minister Nhlanhla Nene's budget painted a bleak picture of government finances and the economy.
The rand retreated more than any other emerging-market or major currency on Friday for a weekly drop of 3.6 percent, the most since the five days through Sept. 25. Yields on benchmark rand notes surged the most in more than seven months this week. Police fired rubber bullets, water cannons and stun grenades at demonstrators who pelted them with rocks outside President Jacob Zuma's offices in the capital, Pretoria, with the clashes coming only two days after riots outside parliament in Cape Town disrupted Nene's mid-term fiscal speech.

The protests, spurred by students demanding lower university fees, reflect a wider frustration over increased corruption and the government's inability to cut widespread poverty and inequality two decades after the end of white-minority rule. They also put pressure on the National Treasury to find more money after Nene on Wednesday cut this year's growth forecast to 1.5 percent from 2 percent, predicted debt will climb to almost 50 percent of gross domestic product this year and the budget deficit is set to widen more than earlier forecasts.
"It's the local fundamentals; all these protests are also not helping matters," Thando Vokwana, currency trader at FirstRand Ltd.'s Rand Merchant Bank in Johannesburg, said. "The budget also painted a very bleak picture ahead."
The rand dropped 1.4 percent to 13.5861 per dollar as of 4:22 p.m. in Johannesburg on Friday, its lowest on a closing basis since Oct. 5. Yields on government rand-denominated bonds were unchanged at 8.38 percent, compared with 8.14 percent a week ago. That marks the first weekly increase in four weeks and biggest since the five days through March 6.
The currency of Africa's most industrialized economy tumbled 1.7 percent on Wednesday as thousands of demonstrators broke into the grounds of parliament and opposition lawmakers were ejected before Nene began delivering his mid-term budget. More than 100 people have been arrested in the 10 days of protests, the biggest by university students since the end of apartheid that have seen classes canceled and running battles with riot police.
"We actually had more of an impact come through from the protests rather than the actual delivery of the budget," Mohammed Nalla, head of strategic research at Nedbank Group Ltd., said by phone from Johannesburg. If the protests escalate and "it proves to be more socially disruptive," then the rand would probably weaken further, he said.

The currency has weakened 15 percent this year and the Reserve Bank will act to counter any effects if it starts to see price pressure spreading more broadly in the economy, Governor Lesetja Kganyago said on Thursday.
South Africa's central bank has so far taken a gradual approach in tightening monetary policy, raising the benchmark interest rate by a total of 1 percentage point to 6 percent in three adjustments since January last year. While inflation of 4.6 percent in September was within the bank's 3 percent to 6 percent target range, it's forecast to exceed that goal next year. The central bank also cannot be "complacent about the exchange rate" in the face of lower commodity prices and U.S. rate increases approaching, he said.
"The longer-term trend remains toward further weakness" for the rand as the Federal Reserve is likely to increase interest rates in December, Nedbank's Nalla said. "Any pull back to 13 or below I would see as a nice opportunity to go long on the dollar."
Before it's here, it's on the Bloomberg Terminal.
LEARN MORE