Meet Three Women Shaking Up How Wall Street Parties for Good
by
'We're often trapped at these things,' says one innovator

Changes include serving crickets for dinner, playing bridge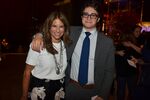 Here's to the brainy women who make charity parties more interesting, like Ann Tenenbaum, Allison Mignone and Amabel James.
Of course they do more than attend parties, and, of course, their entree to New York's philanthropic scene has something to do with the lucrative careers of their husbands: Tenenbaum's spouse is leveraged buyout legend Thomas H. Lee; Mignone, who worked at Blue Ridge Capital, is married to Bridger Management's Roberto Mignone; and James is the wife of Blackstone Group President Tony James.
But make no mistake, these women have become influential on their own, and that means every now and then they get involved in the planning of social, fundraising occasions.
Tenenbaum put her mark on the Lincoln Center Fall Gala Thursday evening by requesting a buffet supper and a mix of standard round dinner tables and comfy lounge areas. Many treated the seating as optional.
"I insisted on it," Tenenbaum said. "We're often trapped at these things. It's too formal."
"I told her tonight, only you could create such fun chaos," said J. Tomilson Hill. "Everyone is out of their comfort zone -- it's wild."
Marsalis, Cash
Being the honorees, Tenenbaum and her husband also chose the entertainment: Wynton Marsalis and Rosanne Cash, who tailored the program for their friends with numbers like "Tom Cat Blues" for Lee and "Sweet Georgia Brown" for Tenenbaum, a Savannah native.
The event raised $3.5 million, making it Lincoln Center's most successful Fall Gala though only another chapter in the couple's support: Lee has been a board member for more than 20 years and a champion of the Lincoln Center Festival. Tenenbaum has guided the Film Society of Lincoln Center through a major expansion and key staff changes as its chairman for 10 years.

Tenenbaum also studies philosophy, writes poetry and is co-chairman of mtheory, which provides support to musicians by working closely with their managers and financing artists who don't have traditional industry partners.
As a mom, though, "She's just like any other mother," said her son Nathan Lee, a 10th-grader.
Cricket Cookies
Allison Mignone is not like every other mother when she attends the American Museum of Natural History's Family Party. She's the party's chairman, the one who got the funding to make many of the activities possible: securing Tiffany & Co. as a sponsor has allowed for more showcasing of the museum's research activities.

Paleontologist William Harcourt-Smith answered questions from a 7-year-old boy in a blazer about his latest discovery, Homo naledi, as a 3-D printer re-created a piece of the fossil. Kids in a sandbox dug for plastic gems. Guests were invited to identify which of four skulls wasn't a carnivore (the answer was the warthog).
"I wanted children and adults to engage in really meaningful ways with the scientific content," Mignone said.

The preppy crowd ate a lot of hot dogs, and crickets served plain or blended into cookies at the Cricket Cantina. And Mignone found a way to enhance the bar offerings beyond organic milk. The sign on each bar read, "Drinks on Roberto Mignone."
The event drew more than 1,000 guests and raised more than $800,000.
Bridge Tournament
On Tuesday morning, Amabel James sat down in the gymnasium of Lenox Hill Neighborhood House to play bridge. James helped found the tournament as a fundraiser, one that brings donors into the building to see what goes on there.
Carrying Goyard and Gucci bags, guests saw parents drop off kids for the Head Start program. In the pool, students of the Lycee Francais were taking swimming lessons. The school rents the facility, which provides money for programs like legal counseling and English-as-a-second-language courses. Across the hall from the gym, cooks were preparing sausages: the kitchen makes 400,000 meals a year for seniors and others.
James expressed joy at creating a fundraiser that doesn't require picking flowers and a gown. Instead, at the Arthur L. Loeb Cup Bridge Tournament, which raised $85,000, she gets to introduce friends to a pursuit she loves.

Another trick up her sleeve is an annual biography lecture at the Graduate Center of the City University of New York. A few weeks ago Brenda Wineapple detailed her adventures researching the lives of Gertrude and Leo Stein and Nathaniel Hawthorne. James, a past chairman of the Graduate Center Foundation, talked over dinner with Robert K. Massie, the Pulitzer Prize-winning biographer of Peter the Great.
As Tenenbaum said, "If you have to go, you might as well have fun."
Before it's here, it's on the Bloomberg Terminal.
LEARN MORE