Ivory Coast Holds First Vote Since War as Economy Takes Off
by
President Alassane Ouattara expected to win in first round

Opponents say growth hasn't benefitted poor Ivorians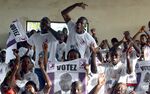 Ivorians will vote Sunday in a presidential election that will probably extend the term of Alassane Ouattara, who has boosted growth in the world's top cocoa producer to more than twice Africa's average.
The 73-year-old former economist has overseen an economy that's expanded 9 percent annually since 2012. He faces six opposition candidates, including Pascal Affi N'Guessan, who heads the former ruling Front Populaire Ivoirien. Three politicians dropped out ahead of the vote, including Charles Konan Banny, a former prime minister who announced his withdrawal on Friday.
Polls will open at 7 a.m. and close at 5 p.m. A runoff is scheduled for Nov. 29 if no one gets at least 50 percent of the vote.
"Ouattara is likely to win the election in the first round," Christoph Wille, senior Africa analyst at London-based risk analysis group Control Risks, said in an e-mailed note. "As the incumbent, he can rely on a much stronger electoral machine than his adversaries."

The opposition is fractured by leadership disputes since Ouattara's predecessor Laurent Gbagbo was sent to the International Criminal Court in The Hague to face war crimes charges. Gbagbo refused to step down after losing the 2010 vote, triggering a brief civil war that paralyzed the economy and halted cocoa exports.
Under Ouattara, the government has splurged on large infrastructure projects, including bridges, highways and dams, while cocoa and cashew harvests reached record highs. The nation returned to international debt markets in July last year, with demand for its Eurobonds exceeding supply.
The United Nations said earlier this year it is reducing the size of its peacekeeping mission in Ivory Coast and may leave after the elections. UN soldiers have been deployed since 2004 following a failed coup that left the country split between a rebel north and a government south.
The opposition says that growth hasn't been spread equally and that social and ethnic divisions have deepened. City authorities of Abidjan, the commercial capital, didn't give an opposition party permission to hold a protest against the vote Thursday.
"The average homemaker doesn't see the benefits of this growth," Affi N'Guessan said in a phone interview on Thursday. "Daily life is expensive."
Ouattara says he will reduce poverty nationwide, widen access to clean water, create jobs for youth and build 60,000 affordable housing units in the next five years.
Ouattara "has boosted growth, restored security and above all, he has reunited the country," Rinaldo Depagne, West Africa director of the International Crisis Group, said by phone from Dakar, Senegal. "That's a record he's rightly proud of."
At the same time, the issues that sparked Ivory Coast's decade-long crisis are far from being resolved, Depagne said.
"Parts of the population still carry a sense of frustration and resentment."
Before it's here, it's on the Bloomberg Terminal.
LEARN MORE