politics
Hillary Clinton's Nomination Odds Get a Boost Following Biden Announcement, Benghazi Hearing
Not so much for Bernie Sanders
By
Hillary Clinton's odds of winning the Democratic presidential nomination are now at or near an all-time high, according to prediction markets PredictWise, Pivit, and PredictIt.
This follows what some observers are already calling the best week of Clinton's campaign so far, thanks to strong performances at last week's debate and Thursday's day-long Benghazi hearing on Capitol Hill, not to mention Vice President Joe Biden's recent decision to sit out the 2016 presidential cycle.
On all of three prediction markets, Clinton has seen at least a 10-point bump since Oct. 20, the day before Biden's announcement.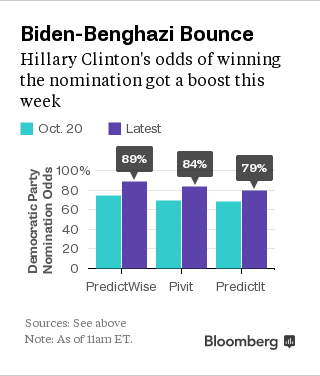 In contrast, Vermont Senator Bernie Sanders, Clinton's main opponent for the nomination, has seen little movement in his numbers. On PredictWise and PredictIt, Sanders's odds are practically unchanged from earlier in the week. Only Pivit gives him a slight boost, to 16 percent today up from 11 percent on Oct. 20.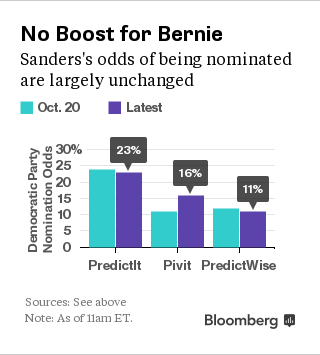 The big question now: Whether Clinton's "best week" boost will last.
Before it's here, it's on the Bloomberg Terminal.
LEARN MORE