Chinese Stocks Advance for Third Straight Week on Stimulus Bets
Bloomberg News
Property developers climb as more cities see home-price gains

Kweichow Moutai rallies in Shanghai after profit increases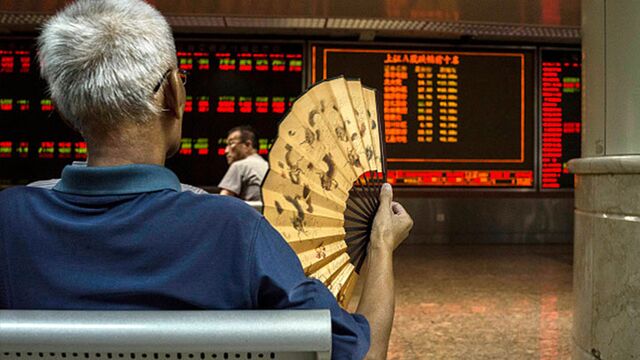 China's stocks rose, sending the benchmark index to a third week of gains, amid speculation the government will take more measures to bolster the economy before a top-level Communist Party meeting starts next week.
The Shanghai Composite Index added 1.3 percent to 3,412.43 at the close., taking this week's gain to 0.6 percent. Liquor maker Kweichow Moutai Co. jumped 4.2 percent after reporting an increase in third-quarter profit. China Vanke Co. climbed 2.9 percent after home prices increased in more Chinese cities.
The Shanghai gauge has risen 12 percent in October, heading for the first monthly advance since May, amid speculation the government will loosen monetary policy and announce more overhauls of state-owned enterprises to support growth. China is making more money available to local governments for financing infrastructure projects this year amid concerns about flagging economic growth, according to people familiar with the matter. The Communist Party meets for its fifth plenary session starting Oct. 26.
"Investors are focusing on the plenum," said Gerry Alfonso, a sales trader at Shenwan Hongyuan Group Co. in Shanghai. "The market expectation is that the plenum will continue with its policies to support the economy, particularly in strategically important sectors. The authorities seem determined to support the economy and that's clearly giving confidence to investors."
Plenum Topics
The Hang Seng China Enterprises Index gained 1.3 percent in Hong Kong, while the Hang Seng Index advanced 1.3 percent, tracking a rally in global stocks after the European Central Bank signaled on Thursday it may boost stimulus this year. The CSI 300 added 1.3 percent. Trading volumes in Shanghai were 22 percent above the 30-day average.
The amount made available to local governments via a special bond program will be increased to at least 600 billion yuan ($94 billion) from 300 billion yuan for the rest of this year, according to the people, who asked not to be identified because the deliberations are private. 
The increase signals growing concern among China's policy makers that a target of 7 percent economic expansion for 2015 may be getting harder to achieve. President Xi Jinping said during a state visit in U.K on Wednesday that China won't see a "hard landing" despite downward pressure on the world's second-largest economy.
Environment, Technology
Plenum topics will include accelerating state-sector reforms and redoubling efforts to reduce pollution, according to Bloomberg economists Fielding Chen and Tom Orlik. Further measures to push the "One Belt, One Road" strategy forward, personnel changes and comments on anti-corruption are among the key things to watch out for at the meeting, said Nathan Chow, an economist at DBS Bank Hong Kong Ltd.
Environmental investment may double to 10 trillion yuan ($1.57 trillion) in 2016-2020 from the previous five years, with the water sector possibly getting half of the investment, Credit Suisse Group AG analyst Trina Chen said. The government will prioritize accelerating construction of information infrastructure, according to China International Capital Corp.
Gauges of health-care and consumer-staples companies in the CSI 300 rose at least 2.1 percent, the best performers among the gauge's 10 industry groups. Beijing Tongrentang Co. surged 4.9 percent. Lepu Medical Technology Beijing Co. added 5.2 percent, capping a 21 percent increase this week.
Moutai Earnings
Moutai, the biggest producer of baijiu liquor, headed for its biggest advance in a month. The company reported a 2.3 percent gain in third-quarter profit from a year earlier to 3.54 billion yuan. Moutai has been seeking to expand abroad as Chinese President Xi Jinping's crackdown on corruption and extravagance curbed demand for luxury goods at home.
China Vanke, the biggest Chinese developer, completed the largest advance in a week. Chinese home prices rose in September in more than half of the 70 major cities monitored by the government for the first time in 17 months, as home-purchase restrictions were loosened and interest rates cut. New-home prices rose in 39 cities, compared with 35 in August, the National Bureau of Statistics said Friday.
Margin traders raised holdings of shares purchased with borrowed money on Thursday, with the outstanding balance of margin debt on the Shanghai Stock Exchange climbing 0.9 percent to 615 billion yuan.
— With assistance by Kyoungwha Kim
Before it's here, it's on the Bloomberg Terminal.
LEARN MORE