Avalanche of Lawsuits to Be Triggered by Carbon Rule Publication
by and
Rule to be contested on scope, competing Clean Air Act parts

Critics say EPA delayed publication to put off a legal stay
Lawyers are expected to unleash a flood of lawsuits Friday when the U.S. Environmental Protection Agency publishes regulations on power-plant pollution, challenging everything from the timing to the constitutionality of President Barack Obama's signature climate initiative.
"I expect this to be the biggest and messiest legal battle that the EPA has ever faced," said Brian Potts, a lawyer at Foley & Lardner LLP who specializes in the Clean Air Act and has written about the rule's legal viability. "There will literally be hundreds of parties challenging this rule, and at least as many defending it. That's a lot of lawyers arguing with each other."
State attorneys general, coal producers, some utilities and broader business groups such as the U.S. Chamber of Commerce have all questioned the measure's legality. Even before the rule was published, coal producer Murray Energy Corp. and states led by West Virginia tried to get a judge to delay its implementation.
The court refused because the regulations had not yet been published in the Federal Register, the daily journal of the U.S. government, which is the action needed to make them official. That will happen Friday, the EPA says, 81 days after it unveiled the final version to the cheers of environmentalists and jeers from coal companies.
Lawyers Surveyed
Potts surveyed more than 100 environmental attorneys this year and got their anonymous take on whether the EPA plan was legal. The response was almost evenly split, with 59 thinking it was and 58 saying it wasn't.
The final rule aims to accomplish a 32 percent reduction in carbon emissions from the nation's fleet of power plants by 2030, compared with 2005 levels. The plan, estimated to cost $8.4 billion, is among the most complex in agency history and will force broad changes in the way electricity is produced and delivered.
The rules, which run more than 1,500 pages, set targets that each state must meet in cutting the amount of carbon pollution from power plants. It's now up to each state to come up with a plan to either meet that new cap or accept a federal carbon trading system. In effect, it will mean power suppliers use less coal, which accounts for the most emissions, and more natural gas, renewable and nuclear power.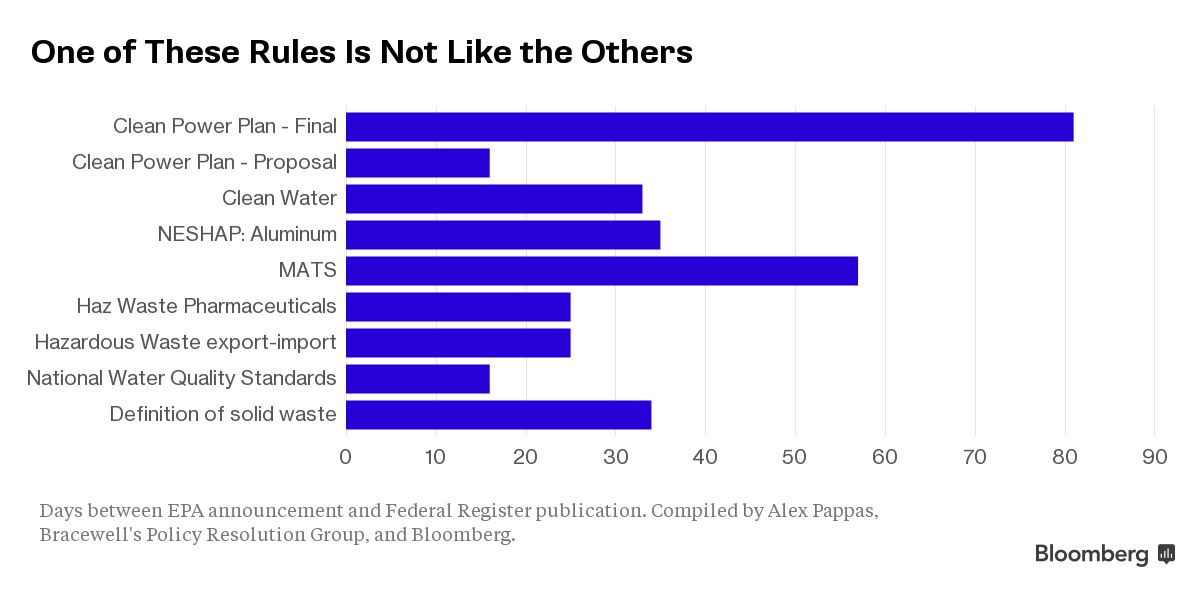 Previewed Arguments
While the earlier cases were dismissed as premature, they delineated the major legal arguments that are set to be argued now: Is the EPA going too far afield to set lower targets? Does an earlier rule to limit mercury emissions preclude the EPA from issuing a carbon one? And does the rule for new power plants rely on a technology -- carbon capture -- that's not ready for prime time.
The first issue that will come up before the D.C. Circuit Court is whether the rule should be stayed, or put on hold, while a long legal fight grinds along.
"Even if the rule is vacated or remanded by the courts some years down the line, large changes to the resource mixes of the various states will already be planned," Raymond Gifford, an attorney with Wilkinson Barker Knauer LLP told a congressional panel on Thursday. "The bulk of compliance occurs before the legality of the rule is determined."
Supporters of EPA say it's silly to contend that irreparable harm will be done to the states because they must consider plans for cutting carbon emissions. The final deadline for a state to submit its plan is years away, and if states decide not to play ball, their utilities can use the federal trading plan instead.
"Getting a stay is a hard legal standard to meet," said Ann Weeks, a lawyer for the Clean Air Task Force, a group that advocates for cutting carbon pollution.
Clean Air Act
At issue next is how the EPA used sections of the Clean Air Act to regulate pollution. Murray and business groups have said that because the EPA in 2011 mandated cuts in mercury and toxic emissions from power plants under section 112 of the law, it can't now pivot to use a different section, 111, to regulate carbon.
"If we are right about this, there is nothing they can do to make this rule lawful," Harvard University constitutional law professor Laurence Tribe, who was hired by Peabody Energy, the world's largest private-sector coal company, to argue the case, said in court earlier this year.
The EPA's lawyers said a drafting error by lawmakers actually created separate amendments for a part of 111(d); one passed by the House of Representatives, the other by the Senate.  Such conflicts are supposed to be resolved when different versions of legislation are blended into a final document. Yet both were in the bill passed by Congress and signed into law, and so it should be up to the agency to figure out how best to interpret them, according to the rule's supporters.
"Does this argument have any more merit now than it did before? No," Weeks said.
Overreach Alleged
Perhaps the bigger argument will be about whether the EPA went too far in determining what power plants could do to curb their carbon emissions. Previous rules to cut traditional air pollutants required individual plants to install equipment on their smokestacks; the new rule will require coal plants to shut down or run less frequently while natural gas or wind is used more often.
"A 'system of emission reduction' must begin and end at the source itself," Allison Wood, a partner at Hunton & Williams LLP, told the House Energy and Power subcommittee on Thursday. "At the end of the day, EPA's interpretation unlawfully broadens the scope of its authority under section 111 well beyond what Congress provided."
Before it's here, it's on the Bloomberg Terminal.
LEARN MORE