VW Crisis Makes ECB Company Bond Purchases Harder, Barclays Says
by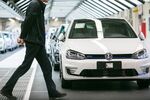 The Volkswagen AG emissions-cheating scandal will make it harder for the European Central Bank to extend its asset-purchase stimulus plan to corporate bonds, according to Barclays Plc.
The crisis at the German automaker would be a "significant consideration" if the ECB planned to add corporate debt to its 1.1 trillion-euro ($1.2 trillion) quantitative easing program, according to Zoso Davies, a credit strategist at Barclays in London.
"The recent scandals are a reminder that no matter how well you did your investigative work, you could not have known what was coming," Davies said. "In the near term, it will be very hard for the ECB to add corporate bonds to its asset-purchase program without also at the same time explaining how it's going to mitigate the risk from another corporate scandal."
The ECB expanded its stimulus plan in July to include bonds of state-backed borrowers such as Italian utilities Enel SpA and Snam SpA. While it previously said the list of eligible agencies may be broadened if needed, policy makers have refrained from buying debt of private corporations because of concerns about liquidity. 
President Mario Draghi signaled on Thursday the ECB may extend QE, which began in March and is due to run until September 2016 or until inflation is on a sustained path back toward the goal of just under 2 percent.
The Bank of France removed two notes secured by VW auto loans from a list of asset-backed debt it was seeking to buy under the program amid the emissions scandal, two people familiar with the matter said last month.
A spokesman for VW, which said last week it will recall about 8.5 million vehicles, was not immediately available for comment the scandal's impact on QE. ECB officials declined to comment.
Before it's here, it's on the Bloomberg Terminal.
LEARN MORE