Valeant Still Has Explaining to Do, Citron Research's Left Says
by and
`I'm more confused today,' short-seller says on Bloomberg TV

Drugmaker's shares plummet for a second day on BMO downgrade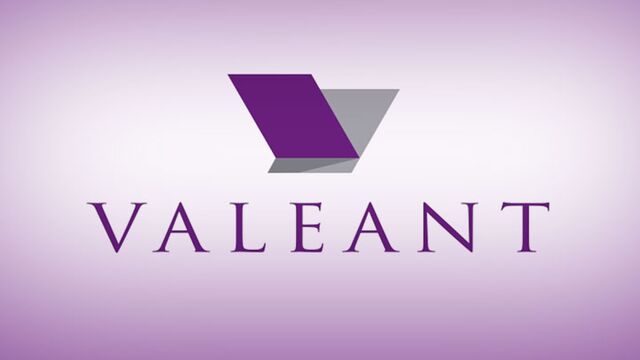 Valeant Pharmaceuticals International Inc.'s explanation of its relationship with pharmacies that distribute its drugs hasn't satisfied investors, said short-seller Andrew Left, whose stock-commentary site Citron Research raised questions about the drugmaker that led to a stock rout.
"I'm more confused today than I was yesterday," Left said in an interview on Bloomberg Television. He said he had a financial position in Valeant but declined to offer details.

Valeant shares plummeted for a second day Thursday after a BMO Capital Markets analyst who has advised buying the stock for more than two years downgraded the shares, citing questions about its close ties to pharmacies that distribute its drugs. The stock fell 7.4 percent to $109.87 at the close in New York, after dropping 19 percent on Wednesday.
The drugmaker didn't immediately respond to a call for comment. Valeant said in a statement that it plans to hold a conference call Monday morning "to lay out the facts including allegations made against our company." The company's CEO, top executives and members of the board's audit and risk committee are all scheduled to be on the call.
Scrutiny of the company intensified after Valeant denied the report by Citron Research, which accused the company of inflating sales using the pharmacies. The companies, known as specialty pharmacies, dispense drugs to patients and handle many aspects of reimbursement from insurers. Drugmakers encourage doctors to send patients to the pharmacies because they can get a higher rate of prescriptions filled.
Option to Buy
Valeant disclosed this week that it has an option to buy one of the pharmacies in question, Philidor RX Services, a relationship other companies don't appear to have, said Mark Schoenebaum, an analyst with Evercore ISI. He said Pfizer Inc., Amgen Inc., Gilead Sciences Inc. and seven other drugmakers of comparable size don't have such arrangements. Horizon Pharma Plc and Endo International Plc., two other specialty pharmaceutical companies, said they don't have ownership interests in the pharmacies they work with.
Analysts at BMO, JPMorgan Chase & Co. and other banks said the report from Citron Research hadn't supported its claims of fraud. But some said Valeant's distribution arrangement is unusual and difficult to understand.
Watch the full video: Inside Valeant's Unknowns and Company Statement
Working with an in-house specialty pharmacy lets a drugmaker make higher profit margins and keep patients on its drugs longer, said David Galardi, co-founder of closely held Apogenics Inc., a pharmacy consultant. The specialty pharmacy monitors patients for side effects, fights to get the medication covered by payers, and works to make sure that people are taking their drugs. That all adds up to longer-term patients, he said.
In-House Strategy
"What Valeant is doing is effectively taking the specialty model, putting it in-house and putting the services under their own control," Galardi said by phone. Drugmakers' previous attempts to manage pharmacies have ended in failure, he said.
"Do you want to be a research-based pharmaceutical company that focuses on making medications and marketing them, or do you want to be a combo company where you are a pseudo-provider?" Galardi said. "The market generally does not like when manufacturers become providers."
Even the drug industry's Washington lobbying group, Pharmaceutical Research and Manufacturers of America, criticized Valeant. "Valeant Pharmaceutical's strategy is more reflective of a hedge fund than an innovative biopharmaceutical company," the group said in a statement on its blog. "This strategy is much different than the vast majority of innovative biopharmaceutical companies that invest a significant share of their revenues into developing new treatments and cures."
Laurie Little, a Valeant spokeswoman, acknowledged that the company had a different model than much of the rest of the industry. "We believe innovation should not be judged by how much you spend, but by the new products that a company is able to bring to market, and our goal has been to bring multiple, high-quality, innovative products to the market year after year," Little said.
Changing Industry
Times have changed since the 1990s, when Eli Lilly & Co., Merck & Co. and the predecessor of GlaxoSmithKline Plc all spent billions of dollars to buy pharmaceutical benefit managers. In 1995, 70 percent of prescriptions paid for by PBMs flowed through those three companies, according to a study from George Washington University.
"Because of those perceived conflicts, all of those companies were spun off," Adam Fein, president of Pembroke Consulting Inc., said by phone. "What Valeant was doing, whether right or wrong, was very, very unusual and not consistent with practices that other pharmaceutical manufactures use."
"I don't have to prove it," Left said of his allegations against Valeant. "Wall Street's decided that there's better chance than not that this smoke is actual fire."
Before it's here, it's on the Bloomberg Terminal.
LEARN MORE