Under Armour Shares Sink After Forecast Upsets Investors
by
Company warns of shrinking profit margins in the quarter

There is very high expectation around stock, analyst says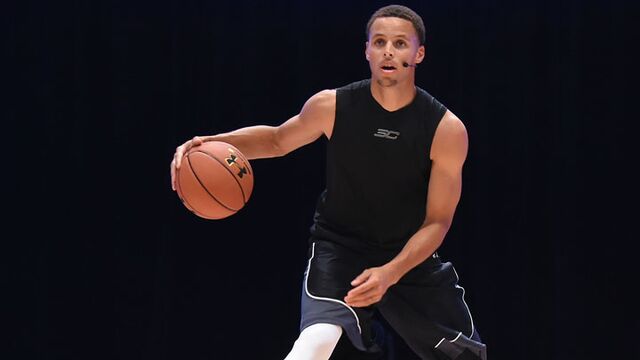 Under Armour Inc. shares declined 5.4 percent after the athletic-apparel maker gave a tepid forecast for the fourth quarter and warned of shrinking profit margins.
Revenue will grow about 25 percent this quarter, the company said on Thursday, implying a figure of roughly $1.1 billion. Operating income will climb 21 percent to about $177 million -- an outlook that Stifel Financial described as a "conservative view." Under Armour also plans to devote $350 million to $360 million to capital spending in 2015, underscoring its push into new markets.
The forecast weighed on the shares, which closed at $93.81 on Thursday in New York. The stock still is up 38 percent this year, a sign of investors' lofty expectations for the athletic brand.
"The quarter is not that bad," said Paul Swinand, an analyst at Morningstar Inc. in Chicago. "There is just very high expectation around the stock."
Under Armour, which got its start selling moisture-wicking workout shirts, has continually pushed into new athletic-gear markets and is now moving deeper into footwear and women's apparel. At an investor day meeting last month, Under Armour announced plans to reach $7.5 billion in revenue by 2018, lifted by global expansion and new markets.
Narrower Margins
The company forecast that its gross margin will narrow by 100 basis points, hurt in part by the strong dollar. It expects 2016 sales to climb about 25 percent, with operating income rising 23 percent. Under Armour also announced plans to make golf shoes branded around Masters champion Jordan Spieth.
Expansion into footwear -- a product with lower gross margins than apparel -- may have contributed to Under Armour's disappointing forecast, Swinand said. As the company builds up its shoe lineup, it may be harder to maintain the profit growth that investors have come to expect.
In the third quarter, revenue increased 28 percent to $1.2 billion, beating analysts' $1.18 billion average projection. Shoe sales rose 61 percent to $196.3 million.
Net income rose 13 percent to $100.5 million, or 45 cents a share, from $89.1 million, or 41 cents, a year earlier, the Baltimore-based company said. Analysts estimated 44 cents on average.
Before it's here, it's on the Bloomberg Terminal.
LEARN MORE