U.K. Banks Dodge Breakup as CMA Demands More Disclosure
by
Regulator issues provisional findings following investigation

`Banks will feel relieved' CMA rejected stronger remedies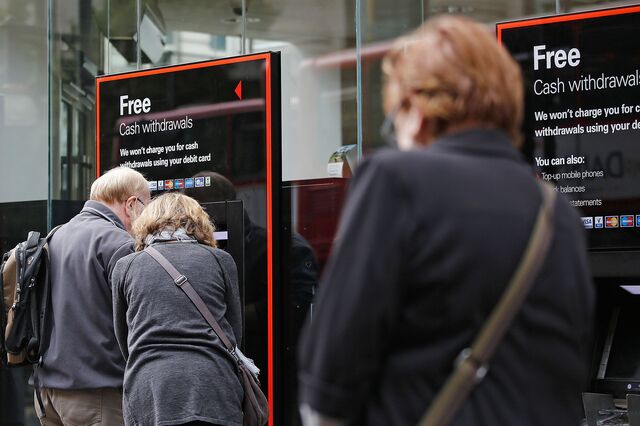 The U.K.'s competition watchdog ruled out breaking up retail banks or ending free checking accounts after an investigation into the industry that took more than a year.
The Competition and Markets Authority instead recommended a package of measures giving customers more information. Proposals included the creation of a price-comparison website for small businesses and a requirement for banks to prompt customers to review their services at certain "trigger points," such as a closing a local branch or a change in terms and conditions.
"The banks will feel relieved that the CMA hasn't demanded more structural intervention," said Alan Davis, a London-based partner at Jones Day. "It has very powerful remedies at its fingertips if it wants to use them, but it has to implement remedies that are proportionate."
The four largest lenders control 77 percent of checking accounts and as much as 90 percent of business lending, the CMA said in November. Lloyds Banking Group Plc has the biggest share of checking accounts at 24 percent, while Royal Bank of Scotland Group Plc is biggest in commercial lending at 31 percent, analysts at Citigroup Inc. wrote in a note to clients last month.
It is the second market investigation carried out by the CMA since it was spun out of the Office of Fair Trading in April 2014. The U.K.'s energy companies also escaped the more drastic recommendations the CMA could have made, which included proposals to break up the biggest six suppliers.
'First Step'
The findings are a "solid first step in breaking the stranglehold of the big banks," said Paul Pester, chief executive officer of TSB, the U.K. challenger bank spun off from Lloyds and then bought by Spanish lender Banco de Sabadell SA this year.
"The switching service needs to be improved for those who are trapped by their current provider and the provision of a standard format monthly bill that spells out the true cost of banking should be mandatory," Pester said. "Only then will we see customers being able to vote with their feet."
Most customers don't switch lenders because they are happy with their bank, according to a report prepared for the CMA by consumer data provider GfK in April. More than two-thirds of those who had not switched in the last three years said they were satisfied with their current provider.
The CMA started the formal inquiry in November after it rejected proposals from banks that included a price comparison website and new procedures allowing small businesses to switch lenders.
'Radical' Changes
The CMA's recommendations were criticized by consumer groups that say they don't go far enough to alter the status quo and urged to the regulator to rethink the situation before issuing the final report next year.
"The CMA's own evidence is that consumers are disengaged from the banking market, so better information and nudges to switch will not be enough," said Richard Lloyd, executive director of U.K. consumer group Which?. "The regulator now has six months to find more radical ways to promote switching, improve information for consumers and punish those banks who fail to treat customers fairly."
The regulatory probe was designed to make it easier for customers to change banks in a market where people tend to stay with the same lender for years. Just 3 percent of personal current account users and 4 percent of small businesses switched lenders in 2014, the CMA said.
There is often little correlation between prices and services as well. The regulator said Lloyds is charging above average prices for below average service and is gaining market share, while HSBC Holdings Plc's online First Direct unit is losing ground despite offering products for a better value.
"When you look at the banks' behavior you see very slow changes in the shape of the banking market in response to changes in customer experience," Alasdair Smith, chairman of the CMA's retail banking investigation, said at a press conference in London Thursday. Banks "can be providing poor quality service at high prices and their loss of market share is quite modest."
The British Bankers' Association, an industry group, said "the CMA's recommendations build on existing measures by high street banks to deliver new innovative ways of banking."
"Banks are pro-competition and compete every day to attract and retain customers," BBA CEO Anthony Browne said in a statement. "So the CMA's recommended approach of further empowering customers is crucial."
Before it's here, it's on the Bloomberg Terminal.
LEARN MORE