The Robots Chasing Amazon
Startups point their metal claws at e-commerce warehouses.
By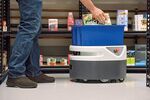 In a mock warehouse stocked with granola bars, breakfast cereal, sponges, and other household goods, a worker plucks items from shelves and places them in a plastic bin. The bin is set atop a small wheeled robot that follows the employee's every step like a puppy. When the container is full, the robot darts off with it to a packing area; a second robot with an empty bin then picks up where the first left off, allowing the worker to keep gathering items without pausing or having to push around a heavy cart.
For now, this demonstration is just that: a beta test of human-robot teamwork. It's in the San Jose office of Fetch Robotics, one of a handful of startups working on warehouse robots aimed specifically at e-commerce companies. With the holiday season approaching, the roboticists are pitching the machines as a way to speed up packing without having to hire extra workers.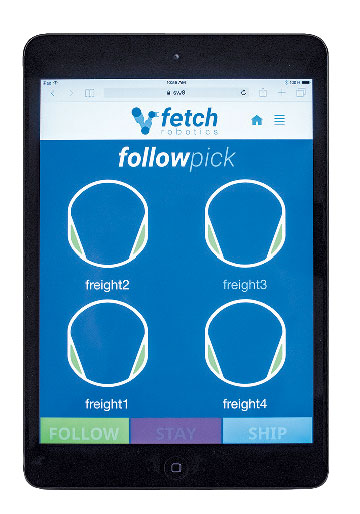 As with most things in the world of online retail, Fetch exists because of something Amazon.com did. In 2012, Amazon paid $775 million for warehouse robot maker Kiva Systems; shortly after, it stopped Kiva from selling its machines to anyone else. "When Amazon drops nearly $1 billion on something just to keep it out of the hands of competitors, it sends a really strong message to the market," says Bryce Roberts, managing director of seed investor O'Reilly AlphaTech Ventures, which has invested in Fetch. "It left a big hole that's still wide open."
In stepped companies such as year-old Fetch in San Jose and six-year-old Harvest Automation in Billerica, Mass. Both say their robots can keep up with a briskly walking person for about eight hours on a fully charged battery. Fetch says its basic models can carry as much as 150 pounds; Harvest, 50. Tim Barrett, the chief operating officer of shipping company Barrett Distribution Centers, says that with eight Harvest prototypes moving goods around its Massachusetts warehouse, the company didn't need to install a pricey conveyor belt.
Fetch has raised $23 million from investors led by Japanese telecommunications giant SoftBank and has been selling its robots since April for about $25,000 apiece. Harvest, which has raised about $25 million in venture funding, says it will begin selling its version next year for $15,000 each, or $1,000 to rent one for a month, according to Chief Executive Officer John Kawola.
The rental option should help attract early adopters by lowering upfront costs, says Dan Kara, practice director for robotics at analyst ABI Research. Similar leases have proved effective for health-care and security robots designed to keep watch over patients or corporate perimeters, he says. Harvest's monthly $1,000 per robot would translate to $1.40 an hour if customers kept the machines working nonstop. Melonee Wise, the CEO of Fetch, says her company is considering renting its robot for $4 an hour, adding that the full $25,000 purchase should pay for itself in about six months.
The cost of greater automation, of course, is fewer jobs. The rise of online shopping created one of the relative bright spots in the U.S. job market: The warehousing industry employed 778,000 people in September, up 22.5 percent from the same month five years earlier, according to the Department of Labor. As the job market tightens, companies seeking to cut prices and speed delivery are looking to replace people with machines. "In the not-too-distant future, robots will be more commonplace in e-commerce," says Rich Mahoney, executive director of robotics at research nonprofit SRI International.
For now, executives at Fetch and Harvest say, their robots are meant to be mechanical pack mules, supplementing humans who have the vision and dexterity to quickly recognize and retrieve the desired products. Fetch, however, is developing a robot with cameras and clawed arms that it says will eventually be able to grab items from the shelves, too.
The bottom line: Robot makers are readying warehouse models that they say will rent for as little as $1.40 an hour.
(Updated seventh paragraph to correct description of SRI International.)
Before it's here, it's on the Bloomberg Terminal.
LEARN MORE